3 Nagas Luang Prabang, MGallery by Sofitel
Sold Out
Experience Old-world Luxury and Charm in Luang Prabang
3 Nagas Luang Prabang, MGallery by Sofitel -

Luang Prabang, Ban Vatong, Laos
3 Nights
Travel by 30th September, 2018
Live in Luang Prabang and experience the UNESCO recognised World Heritage Town at 3 Nagas - MGallery by Sofitel for 3 nights. Located on the main Heritage street, you are just minutes away from the famous temples and monasteries, and the famous night market which is just 5 minutes away.
package options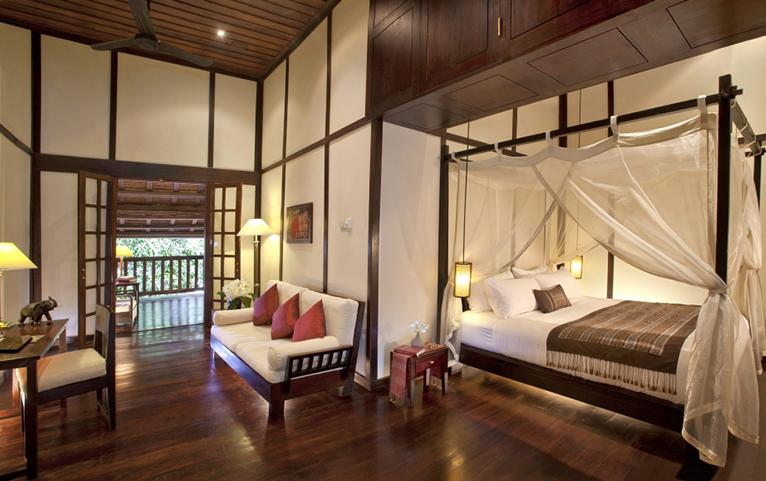 3 Nights
Deluxe Room - 35 sq. m.
Details
Daily breakfast at the hotel restaurant or en-suite
Exotic dining experience with authentic Lao cuisine
Complimentary bike hire
Private transfers to and from the airport
Luang Prabang and its historical fare is perfect for you to explore culture with equal time to spare for leisure. 3 Nagas is situated right on the Heritage street, so you can take part in the daily fanfare while lavishing in Sofitel's luxury.
Your Inclusions
Enjoy daily breakfast at the restaurant or order it in and enjoy it with a view of the heritage city's view
Relish authentic Lao cuisine made from freshly sourced ingredients
Complimentary bike hire to explore the city on your own and become a part of its everyday life
Private transfers to and from the airport in a private car
The Location – Cultural and Spiritual Heart of Laos
Protected by UNESCO as a World Heritage Town, Luang Prabang and its laid-back atmosphere give it a sense of old-world charm and quietude that very few towns possess. Once referred to as 'the Refuge of the Last Dreamers' it is a dream that comes vividly to life in the green of the ancient trees with their scarlet flowers, the saffron robes of the monks, and the pearly-white perfumed frangipanis whose fragrance mingles with that of fresh-brewed coffee and exotic spices.
700 metres above sea level, this idyllic town is set on a peninsula where the Mekong and Nam Kham rivers meet. In this land of myths and legends, where fabled serpent spirits known as nagas protected the ancient town, the 3 Nagas Hotel takes guests on a journey back to time when river life flowed slowly and elephants carried the wood to build these 3 century-old houses, hence the name 3 Nagas, with their dark rosewood floors, traditional cob walls and clay roof tiles that have been so superbly restored are now UNESCO world heritage buildings.
The 3 Nagas Hotel is situated on the main Heritage street, where several side streets lead you to the Mekong and Nan Kham rivers. More than 30 temples are within 30 kilometres of the Hotel. The Wat Xientong, one of the most important Lao monasteries, is just 5 minutes away from the Hotel. Catch a glimpse of Lao culture as you witness the monks' procession every morning in front of the Hotel. To take a little bit of Laos back home, the night market is just 5 minutes away.
The Property - Fully Restored Colonial-style Houses
Located on Luang Prabang's Old Quarter, the three houses that comprise the hotel are a perfect blend of vintage French architecture and classic Lao design. The hotel is located on the main road of the village with easy access to several temples, local boutiques and cultural attractions.
As you touch down at the airport, your journey begins - you will be escorted to a private car. Driving through the heart of the spiritual centre, the driver explains the town's landmarks, its history, the importance of the rivers, and the local culture and customs. Passing through fields of green and ornate temples, guests arrive in front of the charming 3 Nagas.
Its 15 impressively spacious rooms in their wo heritage homes range from 30 to 56 sq. m., and open onto either the 3 Nagas Garden or overlook the quaint town of Luang Prabang. The colonial furniture amidst traditional Lao design adds character to these rooms. Each of the 12 Deluxe rooms is well-appointed for optimal comfort and convenience, complemented by an attached terrace or balcony, wi-fi, coffee and tea making facilities, a minibar and an in-room safe deposit box.
The 3 Nagas restaurant specialises in authentic Lao cuisine, with fresh ingredients sourced from local farmers. The 3 Nagas Café serves freshly baked croissants paired with the best coffee. But what it is most famous for is its delicious ice-cream - with recipes handed down from generations. You can relish a variety of flavours that have been developed and carefully crafted over the years.
Your Room – En-suite breakfast and A View of the Heritage City
Each room at 3 Nagas is carefully restored to keep its history intact. Every design aspect of the room complements the culture and colonial history of Laos.
Deluxe Room - 35 sq. m.
Your room, the Deluxe room combines space and comfort in a beautiful backdrop that features wood furnishings and silk weavings. The room has a distinctive heritage character with one King bed or two Twin beds, bathroom with tub, sofa seating area, and large windows opening to the view of the heritage city.
Perfect for people to explore a new culture
With our complimentary bike hire, you can explore Luang Prabang in all its glory. The rivers which are very near to the property can be visited, along with the 30 temples, including the Wat Xientong monastery. Participate in the alms-giving procession that takes place right on the Hotel's street - be a part of something that is centuries old, where the old and the new come together in perfect harmony.
Valid for travel from 16/04/2018 to 30/09/2018
Surcharge: A non-refundable surcharge per room, per night applies payable directly to FABgetaways at time of booking. Dates and prices have been identified in the Booking Calendar.
Blackout Dates: There will be dates on which this deal will be unavailable. Dates for these have been marked on the booking calendar under blackout dates.
Availability: To confirm your dates of stay at purchase, click on 'Book Now' and select your preferred package. Use the calendar to browse and select available dates. Dates with a surcharge and blackout dates are identified.
7-day Change of Heart Refund Policy: We always have one deal better than the other. So we understand your change of heart. Within 7 days of purchase we'll happily give you an option to cancel your booking, with a full refund, as long as the cancellation date is at least 30 days prior to the arrival date. For cancellations after 7 days of a purchase, the hotel's cancellation policy and penalty applies.
Hotel Cancellation Policy: A cancellation 7 days prior to the date of arrival will incur a full payment. A no show at the day of arrival will also incur charges equivalent to a full stay.
Maximum Guest Capacity: The maximum room capacity is two adults and one child or three adults. See the 'Extra Guest Policy' and 'Child Policy' for more details.
Extra Guest Policy: One adult (aged 13 or older) may stay for a surcharge of 55 USD per night, payable directly to the hotel.
Child Policy: One child (aged 12 or younger) may stay for a surcharge of 27.5 USD per night, payable directly to the hotel.
Connecting Room not available.
The package cannot be split.
Offer only available for consecutive nightly stays.
Dining inclusions do not include beverages (unless otherwise stated).
Menus are subject to change without notice.
Please note that full terms and conditions apply - refer to FABgetaways.com/terms&conditions
Facilities
Le Spa: Located five-minutes by car or a brisk 20 minute walk away, Sofitel shares its Le Spa with 3 Nagas, a haven of relaxation offering botanic beauty rituals and indigenous healing techniques.
Katoke cooking school: You can also partake in an insightful introductory cooking class covering the culinary traditions of Laos.
3 Nagas Restaurant: A fine-dine experience while relishing Lao cuisine, the award-winning restaurant uses fresh ingredients sourced from local farms. The indoor bistro setting is a cosy place to pass a warm afternoon, while the opposing al-fresco courtyard is perfect for soaking up Luang Prabang's surreal evenings.
The 3 Nagas Garden: Covering 500 sq. m., this outdoor garden oasis, one of the last of its kind in Luang Prabang, borders the Nam Khan River. The scenic central pond is under UNESCO's protection and is kept remote by a picket fence. You will have also have access to a wide selection of literature from their library or can enjoy an intimate candle-lit dinner in this old-town sanctuary.
Reviews
The Hotel is a 15-minute drive away from the Luang Prabang International airport. You can take a flight from Mumbai, Delhi and most of the metro cities, with one stopover on the way. The transfer to and from the airport is part of this deal.
×
Select Trip dates
Selected dates
Surcharge dates
Available dates
Please select dates to view number of packages available
Prices for two adults with taxes