Experience Understated Luxury: Adults-only Detox Getaway just an hour away from Delhi
Naad Wellness -

Sonepat, Haryana, India
3 Nights / 5 Nights
Travel by 31st December, 2019
The Naad Experience, yes, that's what you will call it once you step in this quiet and beautiful property near Delhi. Become the best version of yourself at Naad Wellness, Sonepat, to detox your mind and body. Member of Healing Hotels of the World, Naad Wellness draws on three ancient Indian traditions – Ayurveda, Yoga and Naturopathy – and creates customized programs for each individual guest, in consultation with their team of doctors and experts. With therapies for all five senses, Naad Wellness will help you find balance and holistic wellbeing. Each day is carefully planned with a full program of therapies, activities, and your own personalized vegetarian meals to help you rediscover your true self, and heal body, mind and soul.
package options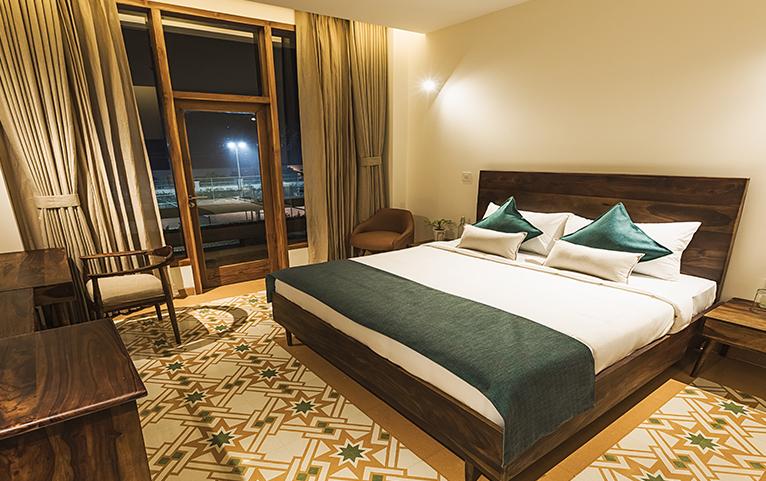 3 Nights
Premium Room- 21 sq.m.
Details
All meals
Guaranteed room upgrade
One dinner at poolside or at the pavilion
Two relaxing therapies
Personalized Yoga Session
Complimentary Salon Services
Special access to premium areas such as night golf
5 Nights
Premium Room - 21 sq.m.
Details
All meals
Guaranteed room upgrade
One dinner at poolside or at the pavilion
Two relaxing therapies
Personalized Yoga Session
Complimentary Salon Services
Special access to premium areas such as night golf
Return airport transfers
Naad Wellness goes an extra mile when it comes caring and offering personalized attention. The overall mood of the place is calm and tranquil. The property is spread across three acres including 39 spacious rooms, treatment areas, a Yoga pavilion and much more.
When you are comparatively free and not indulging in any activity, try their excellent restaurant called Āhāra, for an organic and vegetarian meal. Not enough? You can also relax and swim in the outdoor pool, read a book in the library, or, try a game of tennis, badminton or even mini-golf.
Your inclusions
Enjoy all vegetarian meals
To make your stay comfortable, complimentary room upgrade to a luxury room with a garden view will be provided
Stretch your muscles and calm your nerves with personalized Yoga Session
Enjoy pedicure, manicure, haircut, shave and other basic treatments with complimentary salon services
Special access to premium areas such as night golf will make your holiday just perfect!
Pamper yourself as a special dinner will be arranged at poolside or at the pavilion
Rejuvenate your senses with 2 extra therapies or 3 extra therapies (if you book 5-night package) - the team of doctors will recommend therapies, based on an initial health evaluation.
Note: Should you book a package for 5 nights, airport transfers to and from Delhi airport will be provided to make your stay comfortable.
The location — Golden Ancient City
A wellness vacation is basically holidaying at a very gentle pace, it doesn't have to be strict or stern. Naad Wellness, located in Sonepat offers a comfortable stay with nutritious food, yoga, massage, and detox therapies. Get reconnected with yourselves.
Sonipat, also spelt as Sonepat, is a city in Haryana that is around 43 kilometres from Delhi. It is also around 214 km southwest of Chandigarh. The city also shares the boundary with the districts of Rohtak, Jind and Panipat. The district shares an inter-state boundary with district Meerut of Uttar Pradesh and the Yamuna River runs along the eastern boundary.
If the history is to be believed, Sonepat was founded as Swarnaprastha (meaning Swarna=Gold; Prastha=Place "Golden City") by five Pandava brothers during the time of Mahabharata. And the other fact says that this place belongs to Raja Soni, the thirteenth descendent of Arjuna, one of the Pandava brothers. It is also believed this city was one of the five villages demanded by the Pandavas instead of the kingdom of Hastinapur.
Kurukshetra, also known as Dharmakshetra ("Holy Place") and as the "Land of the Bhagavad Gita", is nearby. From Naad Wellness you can easily travel on to the cultural landmarks of India's Golden Triangle.
Some famous landmarks of the city are:
Ancient Pandav Place
Baba Dham
Baba Meer Mukand Sainipura
Buddhist site of worship
Tirath Satkumbha temple
Tomb of Khwaja Khizr
The property — Restoring the balance of 5 senses
An ancient sound — Naad, originated from the Big Bang. Tune into the sound of the universe and restore balance to your five senses — sight, touch, taste, smell and sound for a healthy and fulfilling life, at Naad. A world-class wellness centre which offers authentic treatments and therapies of the highest quality - Naad Wellness is the perfect place to disconnect with stress and imbalances and reconnect with your true self.
Tune into a sound lifestyle and step into a beautiful, serene detox getaway, just an hour away from Delhi.
Your Room — Elegant Ambience
Premium Room- 21 sq.m: Enjoy an elegant and soothing environment as you pick this premium quality room with a private balcony. As a part of the package, you would get a complimentary room upgrade to:
Luxury Room- 29 sq.m: An ultra-modern room for a comforting and luxurious experience with a garden view.
Valid for travel from 27/11/2018 to 31/12/2019
Surcharge: No high-season surcharges apply for this deal so that you can enjoy the insider prices across the travel period!
Blackout Dates: There will be dates on which this deal will be unavailable. Dates for these have been marked on the booking calendar under blackout dates.
Availability: To confirm your dates of stay at purchase, click on 'Book Now' and select your preferred package. Use the calendar to browse and select available dates. Dates with a surcharge and blackout dates are identified.
7-day Change of Heart Refund Policy: We always have one deal better than the other. So we understand your change of heart. Within 7 days of purchase, we'll happily give you an option to cancel your booking, with a full refund, as long as the cancellation date is at least 30 days before the arrival date. For cancellations after 7 days of purchase, the hotel's cancellation policy and penalty apply.
Change of Date: 1 change in dates is permissible at no additional charges, provided that the change is made at least 30 days before the original arrival date and provided that the hotel has availability on the newly requested dates. The final decision regarding date changes is at the sole discretion of the Hotel and the Hotel reserves the right to decline a change in dates, should availability not exist on newly requested dates.
Partial pre-payment options are available for certain deals. For further information, please do not hesitate to contact our Travel Concierge team, by Email (travelconcierge@fabgetaways.com) or by phone (+919099061000).
Hotel Cancellation Policy: Any cancellation will incur a full payment. A no-show on the day of arrival will also incur charges equivalent to a full stay.
Each package is valid for two adults.
Being a wellness resort, Naad welcomes only adults; children are not allowed at the resort.
Maximum Guest Capacity: The maximum room capacity is two adults only.
Check-in: 12 PM
Check-out: 11 AM
The package cannot be split.
No connecting rooms available
Offer only available for consecutive nightly stays.
Dining inclusions do not include beverages (unless otherwise stated).
Menus are subject to change without notice.
Please note that full terms and conditions apply - refer to www.fabgetaways.com/terms-and-conditions
Services
Clothing Service: A white kurta with matching pyjamas are provided to every guest. A uniform for the time you spend there. The kurtas are changed daily.
Doctor On-Call: Worried about your leg pain after a trek? There's a doctor on-call to treat you right.
Music Therapy Room: Battle mood swings, anxiety and chronic pain and calm yourself with a soothing melody in a dedicated music therapy room at the centre.
Facilities

Dining: They have one restaurant called Āhāra that serves delicious vegetarian cuisine (vegan available on prior request). There is no system of menus here because all meal plans are specially curated for you by the doctors and the head chef. The ingredients used for the food are fresh, seasonal and locally-sourced produce. The dishes are cooked according to Ayurvedic and Naturopathic principles.
Additional Activities: Biking, bird-watching, rooftop mini golf, tennis, Yoga, badminton, guided meditation — are some of the extra activities available at the property.
Spa & Therapies: With six treatment rooms, medical consultation rooms & dental facilities Spa, Gym, reflexology track, jogging track, Salt room, Library, Mandir (temple), Indoor yoga studio and outdoor yoga pavilion — you can totally rejuvenate your senses in the truest form.
The variety of treatments available are:
Acupuncture, de-stress, Ayurveda, detox, diabetes program (customized), hammam, healthy ageing, indigenous techniques, lifestyle coaching, meditation, Naturopathy, nutritional consultancy, physiotherapy, steam bath, spirituality, weight loss, Yoga, salt therapy, colon hydrotherapy, physiotherapy, Therapeutic Yoga.
Reviews
Located at just a stone's throw from Delhi, Naad Wellness is just 48 km from Indira Gandhi International Airport, and 37 km from New Delhi Railway station. It is situated at a distance of 217 km from Chandigarh and 65 km from Gurugram. Direct flights to Delhi are available from all the metro cities in India. Naad Wellness provides airport transfers (which is a part of the 5-night package).
×
Select Trip dates
Selected dates
Surcharge dates
Available dates
Please select dates to view number of packages available
Prices for two adults with taxes