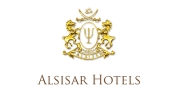 A Spectacular Escapade at the Magnificent 17th Century Alsisar Mahal, Shekhawati
Alsisar Mahal -

Shekhawati, Rajasthan, India
2 Nights / 3 Nights
Travel by 30th September, 2021
per room starting@
₹8,799
Prices for two adults with Taxes
Get ready for fabulous grandeur immersed in a colourful history depicted in intricate frescoes, grand courtyards, majestic dining arcades and striking heritage rooms at the 17th-century palace of Alsisar Mahal in Rajasthan's Shekhawati.
package options
2 Nights
Deluxe Room - 40 sq.m.
Details
Daily breakfast
Dinner once during the stay
A glass of house wine/beer once per stay
20% discount on F&B
2 Nights
Super Deluxe Room - 50 sq.m.
Details
Daily breakfast
Dinner once during the stay
A glass of house wine/beer once per stay
20% discount on F&B
3 Nights
Deluxe Room - 40 sq.m.
Details
Daily breakfast
Dinner once during the stay
Lunch once during the stay
Complimentary stay for 2 children aged below 12 years
A glass of house wine/beer once per stay
20% discount on F&B
3 Nights
Super Deluxe Room - 50 sq.m.
Details
Daily breakfast
Dinner once during the stay
Lunch once during the stay
Complimentary stay for 2 children aged below 12 years
A glass of house wine/beer once per stay
20% discount on F&B
Covid-19 test reports or tests on arrival are no longer required to travel to Rajasthan. All travel restrictions have been lifted and the state is now open for visitors.
Boasting of remarkable architecture and paintings, the Alsisar Mahal takes you back in time to experience a sojourn so royal, peaceful and captivating. The striking palace hotel offers you scrumptious culinary delights, opulent rooms, regal architecture and a majestic aura that is bound to leave you wanting for more.
Your inclusions:
Relish a delectable daily breakfast to start your mornings right
Indulge in a heavenly meal with a buffet/3-course set-menu dinner for two, once per stay
Make a toast to good times with one glass of house wine or beer per adult, once during the stay
Satiate your cravings with a 20% discount on F&B
Should you stay for 3 nights, get to delight yourself with a buffet/3-course set-menu lunch for 2, once during the stay
Make it a family getaway as 2 children below 12 years enjoy a complimentary stay along with all the inclusions (except alcohol) on booking the 3-night stay
The location - A traveller's paradise
Shekhawati is a dream destination for anyone who loves art and culture. And in the quaint town of Alsisar, the vibrant Rajasthani heritage is captured perfectly in its intricately designed, historical Havelis, mansions, temples and cenotaphs. The town is also known to host the Magnetic Fields Festival, a musical carnival held in celebration of international underground music, within the Alsisar Mahal grounds.
The property – A royal treat
A grand palace that sits commandingly in the small town of Alsisar, the Alsisar Mahal is a hidden jewel and a magnificent retreat, perfect for a colourful getaway. It is a 17th-century palace that oozes grandeur and splendour from all its nooks and corners. Be it the opulent accommodation, the elegant dining venues, the fascinating bars or the exciting experiences, Alsisar Mahal leaves no stone unturned to make your vacation a luxurious and pleasant one!
Your Room - Live life king size
Deluxe Room - 40 sq.m: The Deluxe Room is a cocoon of comfort and luxury. Featuring intricate artwork, a chandelier, a four-poster bed, modern conveniences, an ensuite bathroom with a bathtub and offering pleasant views of the courtyard, garden or the pool, splendid bliss is guaranteed in this sumptuous space.
Super Deluxe Room - 50 sq.m: A stay at the Super Deluxe Room is an elevated experience in itself. The impressive wood panelling, the intriguing hand-painted walls and ceiling and rich furnishings let you spend your time here in complete euphoria and comfort. The room features an extra-long bed, an ensuite bathroom with a bathtub and all modern amenities to ensure that your stay is extra delightful.
SAFE GETAWAYS

Your safety is of utmost priority to us. Which is why we are bringing you certified getaways to make sure your stay is safe and worry-free. Properties that tick all the boxes of our 12-point safety checklist get the Safe Getaway stamp while the rest are self-certified and follow their own set of protective measures.
Physical distancing of at least 6 feet to be followed as far as feasible.
All guests and employees are required to wear face shields/masks.
Every staff member and guest is required to follow proper hand hygiene such as frequent washing of hands and use of alcohol-based sanitizers. Both measures are facilitated by the hotel.
There is sufficient provision of hand sanitizers in guest rooms and public areas.
Guests are required to provide their travel history and medical records at the time of check-in and the same has to be looked into and maintained. ID and self-declaration form is provided by each guest at the reception.
Luggage is disinfected before being sent to the room.
Room service or takeaway is facilitated and encouraged.
Regular and effective sanitation within the premises is maintained with particular focus on lavatories, drinking and handwashing stations/areas.
Frequently touched surfaces such as doorknobs, elevator buttons, handrails, benches, washroom fixtures, etc. are cleaned and disinfected on a regular basis.
Deep cleaning of all washrooms is ensured at regular intervals.
Thermal screening of all guests and employees before they enter the property is compulsory.
Regular staff training is initiated for maintaining social distancing norms, hand hygiene and respiratory etiquette.
Valid for travel from 22/09/2020 to 30/09/2021

Surcharge: A non-refundable surcharge per room, per night, applies payable directly to FABgetaways at time of booking. Dates and prices have been identified in the Booking Calendar.

Blackout Dates: There will be dates on which this deal will be unavailable. Dates for these have been marked on the booking calendar under blackout dates.
FABcredits: FABcredits cannot be redeemed on this deal, as the prices already have the best discounts we could offer.

Availability: To confirm your dates of stay at purchase, click on 'Book Now' and select your preferred package. Use the calendar to browse and select available dates. Dates with a surcharge and blackout dates are identified.

7-day Change of Heart Refund Policy: We always have one deal better than the other. So we understand your change of heart. Within 7 days of purchase, we'll happily give you an option to cancel your booking, with a full refund, as long as the cancellation date is at least 30 days before the arrival date. For cancellations after 7 days of purchase, the hotel's cancellation policy and penalty apply.

Change of Date: One change in dates is permissible at no additional charges, provided that the change is made at least 30 days before the original arrival date and provided that the hotel has availability on the newly requested dates. The final decision regarding date changes is at the sole discretion of the Hotel and the Hotel reserves the right to decline a change in dates, should availability not exist on newly requested dates.

Partial pre-payment options are available for certain deals. For further information, please do not hesitate to contact our Travel Concierge team, by Email (travelconcierge@fabgetaways.com) or by phone (+919099061000).

Hotel Cancellation Policy: All cancellations will be completely free and qualify for a 100% refund, provided it is done at least 7 days prior to the check-in date. Past that, any cancellation, including a no-show on the day of arrival, will incur a full payment.

Each package is valid for two adults

Maximum Guest Capacity: The maximum room capacity is two adults and two children (aged below 12 years) or three adults.
Extra Guest Policy: An extra adult can stay at a surcharge of Rs.2000 per room per night, with the bed & breakfast, payable directly at the resort.
Child Policy: A child (aged between 0-5 years) may stay free of charge with existing bedding. A child aged between 6-12 years may stay at a surcharge of Rs.2000 per room per night, which includes the bed & breakfast.
Check-in: 2.00 PM
Check-out: 12.00 AM

The package cannot be split.
No connecting rooms are available.
Offer only available for consecutive nightly stays.
Dining inclusions do not include beverages (unless otherwise stated).
Menus are subject to change without notice.
Please note that full terms and conditions apply - refer to https://www.fabgetaways.com/terms-and-conditions
Services

Laundry service: Look your best while on vacation by availing the hotel's laundry services.
Doctor on call: To ensure that you enjoy every second of your vacation sans stress, a doctor on call is available at the hotel.
Concierge: Discover the best attractions in and around the hotel with the hotel's concierge services.
Activities: Explore the mesmerizing sites and discover the enchanting heritage of Shekhawati with the heritage walks, fresco trail tours and day trips, offered by the hosts.
Safaris: Journey into Alsisar's vast desert with an exhilarating Jeep safari or ride through the captivating lanes of Alsisar and interact with the locals with an exciting camel cart safari, arranged by the hosts upon request.
Folk Dances and Performances: Delve into the colourful and vivid Rajasthani culture with the entertaining folk dances and performances arranged by the hosts.
Facilities
Swimming Pool: Take a refreshing dip to cool off and relax in Alsisar's pristine swimming pool.
Fitness Centre: Get back to your fitness regime even while on vacay by working out at the hotel's modern fitness centre.
Dining Venues: Alsisar lets you dine in any environment of your choice with its multiple dining venues. Indulge in a regal dining experience surrounded by intricate architecture and artwork in the dining hall, enjoy delightful cuisines under the sky with the most breathtaking views in the rooftop restaurant or revel in a charming alfresco dining experience in the courtyard.
Bars: Enjoy refreshing drinks amidst a relaxed atmosphere at any of the hotel's 3 impeccable bars.
British Bar: Sit back, relax and indulge in a leisurely time amidst the classic sophistication and grandeur of the British Bar.
Dungeon Night: Make a toast to life with premium wines and whiskeys at the hotel's well-stocked bar, Dungeon Night.
Coffee Shop/Bar: Enjoy a cup of coffee at Alsisar Mahal's open-air coffee bar, set in the hotel's idyllic courtyard.
Reviews
By Air
The nearest airport from the resort is Jaipur International Airport at a distance of 216 km (approx. 4 hours). The airport has excellent flight connectivity with direct flights from major cities such as Mumbai, Delhi, Bangalore, Kolkata, and Chennai.
By Road
You can get to the resort with a 5-hour drive from Delhi via Nh 9 and NH 709, a 6-hour drive from Jodhpur via NH 62, or a 7-hour drive from Agra via Bikaner-Agra Road.
By Rail
The Jaipur Railway Junction, which is 4 hours away, is the nearest railhead to the resort. The junction has excellent rail connectivity with a regular influx of trains from major cities like Mumbai, Delhi, Ahmedabad, Chennai, Kolkata, and Coimbatore.
×
Select Trip dates
Selected dates
Surcharge dates
Available dates
Please select dates to view number of packages available
Prices for two adults with Taxes