A 5-Star Royal Palace Retreat in the Pink City at Fairmont Jaipur
Fairmont Jaipur -

Jaipur, Rajasthan, India
2 Nights / 3 Nights
Travel by 31st December, 2020
Discover the enchanting regal history, culture, nature and gastronomy of Rajasthan in the quaint Pink City while relishing unparalleled contemporary opulence and royal hospitality with a 5-star palace retreat at Fairmont Jaipur.
package options
2 Nights
Fairmont Room - 51 sq.m
Details
Daily breakfast
Dinner at Zoya, once during the stay
One beer bucket, once during the stay
A 20% discount on F&B
A 20% discount on laundry
Early check-in & late check-out upon availability
One child below 12 years stays and eats free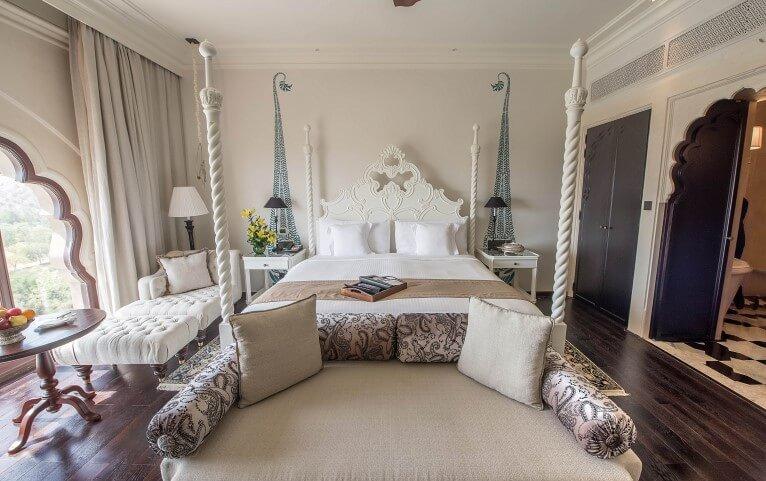 3 Nights
Fairmont Room - 51 sq.m
Details
Daily breakfast
Dinner at Zoya, once during the stay
One beer bucket, once during the stay
A 20% discount on F&B
A 20% discount on laundry
Early check-in & late check-out upon availability
One child below 12 years stays and eats free
Covid-19 test reports or tests on arrival are no longer required to travel to Rajasthan. All travel restrictions have been lifted and the state is now open for visitors.
Indulge in a fascinating fusion of regal heritage and modern luxe with a 5-star palace stay at Fairmont Jaipur, offering chic accommodation, tantalising culinary experiences, adventurous activities, enthralling excursions, and more.
Your Inclusions:
Begin your royal Rajasthani mornings wholesomely with daily breakfast
Relish an unrivalled Rajasthani dining experience with dinner at Zoya, once during the stay
Replenish yourself during your royal stay with a beer bucket, once during the stay
Revel in a regal culinary frenzy with a 20% discount on F&B
Keep your outfits looking neat and classy with a 20% discount on laundry
Stay longer amid the royal Rajasthani aura with early check-in & late check-out upon availability
Enjoy a memorable family getaway with a complimentary extra bed for one kid below 12 years
The Location – The Picturesque Capital of Rajasthan
Encircled by the serene Aravalli Hills, Jaipur encapsulates a charming treasure of royal and cultural heritage in its numerous beguiling palaces, ancient monuments, exquisite temples, and more. Adorned with magnificent pink-hued buildings, Jaipur is also well-known for exhibiting the authentic Rajasthani culture through traditional folk music and dance performances. The endless list of attractions worth visiting in the capital includes the 18th-century City Palace, the 16th-century Amber Palace, the awe-striking Hawa Mahal, and more.
The Property – Contemporary Rajasthani Regality
Nestled amidst the soul-stirring serenity of the Aravalli hills, away from the hubbub of the city, Fairmont Jaipur is a majestic living palace reflecting a quintessential blend of Rajasthani heritage and unrivalled luxury. The grand doors of the 5-star retreat, brought from the Jaisalmer Fort, welcome you to a reinvigorating paradise spread over 90,000 sq ft of verdant landscapes, featuring 245 well-appointed rooms, elegant dining venues, opulent recreational amenities, and more.
Your Room – Royal Heritage with Modern Luxe
Fairmont Room - 51 sq.m: Embellished with Mughal-inspired elements of decor, such as mirrors and door frames with lobed arches, the Fairmont Room invokes a sense of traditional regality in you while also pampering you with contemporary comforts. The awe-inspiring and airy room features a cosy king-sized bed or twin beds, a lush bathroom with a granite bathtub, a comfy workstation, and an array of sumptuous amenities to provide you with an unforgettable stay.
Fairmont Gold Room - 54 sq.m: Finely furnished with awe-striking themes of gold and royal blue, the Fairmont Gold Room enlivens your stay in Jaipur by providing you with an array of exclusive amenities and perks, such as special access to the Fairmont Gold Lounge. The spacious room indulges you in a realm of luxury and comfort by featuring a comfy king-sized bed or twin beds as well as an opulent bathroom with a granite bathtub and offering soul-stirring views of the city, courtyard or the Aravalli Hills.
Fairmont Suite - 109 sq.m: Designed to provide you with a palatial regal stay in the Pink City, the Fairmont Suite satiates you with an elevated level of luxe and comfort by offering you a plethora of exclusive privileges, such as access to the Fairmont Gold Lounge and high-end bathing amenities. The grand suite engulfs you in impeccable relaxation by featuring a snug king-sized bed or twin beds as well as a gleaming bathroom with a granite bathtub and offering unhindered vistas of the majestic Aravalli Hills.
Your safety is of utmost priority to us. Which is why we are bringing you certified getaways to make sure your stay is safe and worry-free. Properties that tick all the boxes of our 12-point safety checklist get the Safe Getaway stamp while the rest are self-certified and follow their own set of protective measures.
Physical distancing of at least 6 feet to be followed as far as feasible.
All guests and employees are required to wear face shields/masks.
Every staff member and guest is required to follow proper hand hygiene such as frequent washing of hands and use of alcohol-based sanitizers. Both measures are facilitated by the hotel.
There is sufficient provision of hand sanitizers in guest rooms and public areas.
Guests are required to provide their travel history and medical records at the time of check-in and the same has to be looked into and maintained. ID and self-declaration form is provided by each guest at the reception.
Luggage is disinfected before being sent to the room.
Room service or takeaway is facilitated and encouraged.
Regular and effective sanitation within the premises is maintained with particular focus on lavatories, drinking and handwashing stations/areas.
Frequently touched surfaces such as doorknobs, elevator buttons, handrails, benches, washroom fixtures, etc. are cleaned and disinfected on a regular basis.
Deep cleaning of all washrooms is ensured at regular intervals.
Thermal screening of all guests and employees before they enter the property is compulsory.
Regular staff training is initiated for maintaining social distancing norms, hand hygiene and respiratory etiquette.
Valid for travel from 28/08/2020 to 31/12/2020
Surcharge: A non-refundable surcharge per room, per night, applies payable directly to FABgetaways at time of booking. Dates and prices have been identified in the Booking Calendar, where applicable.
Blackout Dates: There will be dates on which this deal will be unavailable. Dates for these have been marked on the booking calendar under blackout dates.
FABcredits: FABcredits cannot be redeemed on this deal, as the prices already have the best discounts we could offer.
Availability: Bookings are subject to availability. To confirm your dates of stay at purchase, click on 'Book Now' and select your preferred package. Use the calendar to browse and select the available dates. Dates with a surcharge and blackout dates are identified.
7-day Change of Heart Refund Policy: We always have one deal better than the other. So, we understand your change of heart. Within 7 days of purchase, we'll happily give you an option to cancel your booking, with a full refund, as long as the cancellation date is at least 30 days before the arrival date. For cancellations after 7 days of purchase, the hotel's cancellation policy and penalty apply.
Change of Date: 1 change in dates is permissible at no additional charge, provided that the change is made at least 30 days before the original arrival date and provided that the hotel has availability on the newly requested dates. The final decision regarding date changes is at the sole discretion of the Hotel and the Hotel reserves the right to decline a change in dates, should availability not exist on newly requested dates.
Partial Prepayment: Partial prepayment options are available for certain deals. For further information, please do not hesitate to contact our Travel Concierge team, by Email (travelconcierge@fabgetaways.com) or by phone (+919099061000).
Hotel Cancellation Policy: All cancellations will be completely free and qualify for a 100% refund, provided it is done at least 7 days prior to the check-in date. Past that, any cancellation, including a no-show on the day of arrival, will incur a full payment.
Validity: Each package is valid for two adults.
Maximum Guest Capacity: The maximum room capacity is two adults and two children (aged below 12 years) or 3 adults. See the 'Extra Guest Policy' and 'Child Policy' for more details.
Extra Guest Policy: Where applicable, an extra adult can stay at a surcharge of INR 3,360 per night, with an extra bed and the inclusions available in the package, payable directly at the resort.
Child Policy: Where applicable, an additional child aged between 0 - 5 years may stay free of charge, an additional child aged between 6 - 12 years may stay at a surcharge of INR 2,360 per night, these charges include an extra bed and the inclusions available in the package, payable directly to the resort.
Check-in: 2:00 PM
Checkout: 12:00 PM
The package cannot be split.
No connecting rooms available.
Offer only available for consecutive nightly stays.
Dining inclusions do not include beverages (unless otherwise stated).
Menus are subject to change without notice.
Please note that full terms and conditions apply - refer to FABgetaways.com/terms&conditions
Services
Sightseeing Excursions: Discover the fascinating heritage and culture of Rajasthan with various enthralling tours offered by the resort, including city tours, sightseeing trips to UNESCO sites, shopping market visits, and more.
Hot Air Balloon Ride: Enjoy the magnificent vistas of the Pink City from a bird's vantage point as you cruise past the majestic Amer Fort and various other attractions with a thrilling hot-air balloon ride arranged by the resort.
Village Visit: Learn more about the rustic Rajasthani lifestyle by interacting with the endearing rural inhabitants with an intriguing visit to a local village organised by the resort.
Bike Trails: Pedal through the rugged terrains of Jaipur to explore the immaculate beauty of the region on your own with the exciting bike trails arranged by the resort during your stay.
Elephant Picnic: Spend some memorable time with elephants to bond with the charming animals by feeding and petting them with an enthralling picnic organised by the resort to a nearby Elephant Village.
Yoga: Soak in the nirvanic serenity of the Aravalli Hills to feel replenished by practising a wide range of relaxing yoga poses with the rejuvenating yoga sessions offered by the resort.
Sports: Indulge in memorable recreation during your stay with a wide array of sports activities offered by the resort, including table tennis, volleyball, badminton, and more.
Adventure Activities: Pump up your adrenaline with an extensive list of adventure activities offered by the resort, including trekking, forest safaris, paramotor gliding, falconry, and more.
Facilities
Swimming Pool: Immerse yourself into idyllic oblivion amid the tranquillity of the Aravalli Hills by taking a refreshing dip in the azure waters of the pristine outdoor pool at the resort.
Gymnasium: Keep yourself fit and active even during your Rajasthani getaway by working out using the sophisticated fitness equipment at the resort's exquisite gymnasium.
Spa: Experience blissful nirvana with an extensive range of therapies, including bespoke therapies based on the ancient Vedas for the twelve Zodiac signs, offered at the resort's serene spa, Ruhab.
Kids' Play Area: Take a break from your routine parenting responsibilities to enjoy your vacay as the little guests engage in a wide array of exciting games at the resort's special play area for kids, Tingar.
Dining: Embark on a regal gastronomical journey by enjoying a wide selection of regional delicacies and refreshing beverages amidst the chic settings of the resort's magnificent culinary venues.
Zarin:

Indulge in a royal dining experience by savouring a wide variety of delicious traditional Rajasthani delicacies amid the gold-themed ambience of the resort's exquisite restaurant, Zarin.

Zoya:

Satiate your culinary senses by relishing a repertoire of oozing local delights prepared on live cooking stations and served amid a royal Mughal-style tented ambience at the resort's all-day dining restaurant, Zoya

Cigar Diwan:

Elegantly smoke up a Cuban cigar or indulge in whisky and wine tastings amid a classy, royal setting featuring mood lighting, chic decor, leather chairs, and more at the resort's private indoor smoking space, Cigar Diwan.

Anjum:

Sample a wide variety of teas and other beverages from around the world while reposing on a cosy sofa and savouring the splendid vistas of the Aravallis at the resort's elegant tea lounge, Anjum.

Aza:

Unwind in the old-world regal style by reading a classic book or an entertaining black and white movie while sipping on unique single malts, luscious wines or vintage cognacs at the exquisite royal library bar, Aza.
Reviews
By Air
The nearest airport from the resort is Jaipur International Airport, located at a distance of 28 km (approx. 40 minutes). The airport has excellent flight connectivity with direct flights from major cities such as Mumbai, Delhi, Bangalore, Kolkata, and Chennai.
By Road
You can also drive to the resort via a 4.5-hour (250 km) route from Delhi or a 7-hour (415 km) route from Udaipur.
By Rail
The Jaipur Railway Junction, located 21 km away (approx. 30 minutes) away, is the nearest railhead to the resort. The junction has excellent rail connectivity with a regular influx of trains from major cities like Mumbai, Delhi, Ahmedabad, Chennai, Kolkata, and Coimbatore.
×
Select Trip dates
Selected dates
Surcharge dates
Available dates
Please select dates to view number of packages available
Prices for Two Adults with Taxes