Heavenly Hilltop Luxe Amidst Temples and Beaches at Kahani Paradise Gokarna
Kahani Paradise -

Gokarna, Karnataka, India
2 Nights
within 24-hours confirmation
Travel by 31st March, 2020
Bask in the soul-stirring scenic beauty and serenity in the town of temples and beaches with a paradisiacal retreat atop a lush green hill offering sweeping views of the cerulean sea while you revel in impeccable luxe and comfort at Kahani Paradise Gokarna.
package options
within 24-hours Confirmation: Please note that the rooms are subject to availability of the pre-reserved room.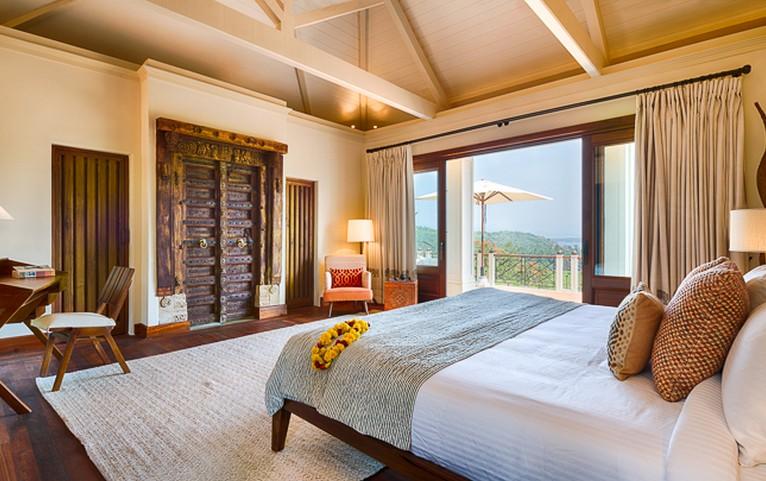 2 Nights
Junior Suite Ocean View - 40 sq.m
Details
Daily breakfast
Nightly dinner
A cocktail on arrival
Free Wi-fi
2 Nights
Palace Suite - 86 sq.m
Details
Daily breakfast
Nightly dinner
A cocktail on arrival
Free Wi-fi
With 6 sumptuous suites, an alfresco spa, an elegant gastronomical venue, and an array of other opulent amenities, Kahani Paradise Gokarna serves as a quintessential retreat to reinvigorate your soul amidst the serenity of Gokarna.
Your Inclusions:
Make your mornings in blissful Gokarna wholesome with daily breakfast
Tantalise your tastebuds amidst Gokarna's serenity with daily dinner
Experience an endearing reception with a cocktail on arrival for two
Stay in touch with your loved ones during the vacay with access to free Wi-fi
The Location – The Town of Beaches and Temples
Dotted with pristine white sandy beaches and magnificent temples, Gokarna is a quaint town, quintessential for a fuse of salvation and relaxation. The majestic mountains of the Western Ghats in Gokarna meet the azure waters of the Arabian Sea to create a magnificent sight and symphony of nature. While you can always revel in the soothing tranquillity of Gokarna, the water sports and maritime activities on the beaches are too alluring to be missed.
The Property – A Heaven on a Hilltop
Sitting atop a verdant hill in the South of Gokarna, Kahani Paradise is aptly named for its heavenly location amidst a pristine beach and lush forest. The paradisiacal resort serves both as an awe-inspiring vantage point as well as an abode of unspeakably fascinating luxury and comfort. From opulent rooms to reposeful recreational amenities to oozing culinary experiences, the Kahani Paradise Gokarna offers everything you need for a perfect getaway in this picturesque town.
Your Room – A Palatial Cocoon of Luxury
Junior Suite Ocean View (Blue Suite, Green Suite & Elephant Suite) - 40 sq.m
Designed with the hues inspired by the ocean, the Junior Suite Ocean View keeps you engulfed in an oceanic theme with its interior theme and the exterior view of the cerulean waters. The lavish suite encompasses unparalleled luxe with contemporary amenities, a comfy king-sized bed, and a private sit-out to spend some reposeful moments.
Palace Suite (Queen Suite) - 86 sq.m
Adorned with towering ceilings and arched decor, the Palace Suite is a paragon of luxe and comfort, featuring a king-sized bed and an opulent bathroom with a marble bathtub. The palatial suite provides you with awe-striking views of the verdant garden or the azure ocean.
Valid for travel from 22/10/2019 to 31/03/2020

Surcharge: Please check the booking calendar for the surcharges mentioned alongside the travel dates.
Blackout Dates: There will be dates on which this deal will be unavailable. Dates for these have been marked on the booking calendar under blackout dates.
Availability: Bookings are subject to availability. To confirm your dates of stay at purchase, click on 'Book Now' and select your preferred package. Use the calendar to browse and select the available dates. Dates with a surcharge and blackout dates are identified.
7-day Change of Heart Refund Policy: We always have one deal better than the other. So, we understand your change of heart. Within 7 days of purchase, we'll happily give you an option to cancel your booking, with a full refund, as long as the cancellation date is at least 30 days before the arrival date. For cancellations after 7 days of purchase, the hotel's cancellation policy and penalty apply.
Change of Date: 1 change in dates is permissible at no additional charge, provided that the change is made at least 30 days before the original arrival date and provided that the hotel has availability on the newly requested dates. The final decision regarding date changes is at the sole discretion of the Hotel and the Hotel reserves the right to decline a change in dates, should availability not exist on newly requested dates.
Partial Prepayment: Partial prepayment options are available for certain deals. For further information, please do not hesitate to contact our Travel Concierge team, by Email (travelconcierge@fabgetaways.com) or by phone (+919099061000).
Hotel Cancellation Policy: Any cancellation will incur a full payment. A no-show on the day of arrival will also incur charges equivalent to a full stay.
Validity: Each package is valid for two adults.
Maximum Guest Capacity: The maximum room capacity is two adults and one child (aged below 11 years) or 3 adults. See the 'Extra Guest Policy' and 'Child Policy' for more details.
Extra Guest Policy: Where applicable, an extra adult can stay at a surcharge of 8000 INR per night, with an extra bed and the inclusions available in the package, payable directly at the resort.
Child Policy: Where applicable, a child aged between 0 - 5 years may stay free of charge, a child aged between 6 - 11 years may stay at a surcharge of 5000 INR per night, these charges include an extra bed and the inclusions available in the package, payable directly to the resort.
All cots and extra beds are subject to availability.
There is no capacity for cots at this property.
Check-in: 1:00 PM
Checkout: 12:00 PM
The package cannot be split.
No connecting rooms are available.
Offer only available for consecutive nightly stays.
Dining inclusions do not include beverages (unless otherwise stated).
Menus are subject to change without notice.
Please note that full terms and conditions apply - refer to https://www.fabgetaways.com/terms-and-conditions.
Services
Nature Walk: Enjoy a leisurely stroll through the surrounding garden, forest, or farm to bask in the verdant beauty of Gokarna.
Motorbike and Jeep Rental: Explore the most alluring attractions of the temple town on your own by renting a motorbike or jeep available at the resort.
Indoor & Outdoor Games: Indulge in an unforgettable recreational experience with some engaging indoor and outdoor games available at the resort.
Airport Transfers: Travel with style and convenience to and from the airport with the comfy transfer services offered by the resort on request.
Yoga: Relieve your sore muscles of the agonizing urban stress with some relaxing yoga sessions offered by the resort.
Wi-fi: Share your ecstatic vacay moments digitally with your family and friends back at home using the complimentary high-speed internet connection available at the resort.
Facilities
Spa: Satiate your soul with rejuvenating massages offered by experienced masseurs in alfresco massage rooms at the resort.
Swimming Pool: Swim through the refreshing water of the pristine pool at the resort to enthral in the soothing serenity of Gokarna.
Dining: Tantalise your tastebuds as well as your soul by savouring mouthwatering delicacies, prepared by the in-house chef at the resort using local organic produce and succulent seafood freshly brought from the sea.
Reviews
By Air
The nearest airport from the resort is Goa International Airport, located about 155 km (approx. 3.5 hours) away. The airport has excellent flight connectivity with non-stop flights from major Indian cities such as Mumbai, Delhi, Bangalore, Hyderabad and Kolkata.
By Road
The nearest bus station is in Gokarna, about 7 km (approx. 20 minutes) away from the resort. Gokarna is well-connected via buses to cities such as Bangalore, Mysore, Pune, Mumbai and Hospet. You can also reach the resort via a 3.5-hour (145 km) drive from Goa, a 5-hour (236 km) drive from Mangalore or a 9.5-hour (487 km) drive from Bangalore
By Rail
Gokarna Road station, located 10 km (approx. 20 minutes), is the closest railway station from the resort and is well-connected by rail to a few major cities such as Bangalore, Mangalore, Pune and Ernakulam.
×
Select Trip dates
Selected dates
Surcharge dates
Available dates
Please select dates to view number of packages available
Prices for Two Adults with Taxes