WakaGangga Villas and NusaBay Menjangan
Sold Out
Discover two facets of Bali - beaches and rice fields, in one trip with Waka Resorts
WakaGangga Villas and NusaBay Menjangan -

Bali, Indonesia
4 Nights
Travel by 31st December, 2019
Let your holiday at the island of Gods begin! Experience the luxury of a tailor-made trip with stays at two of the most acclaimed properties in Bali - WakaGangga and NusaBay Menjangan. The timeless warmth of the Balinese culture coupled with the grand hospitality at these luxe resorts shall offer you moments of pure happiness on this unforgettable trip.
package options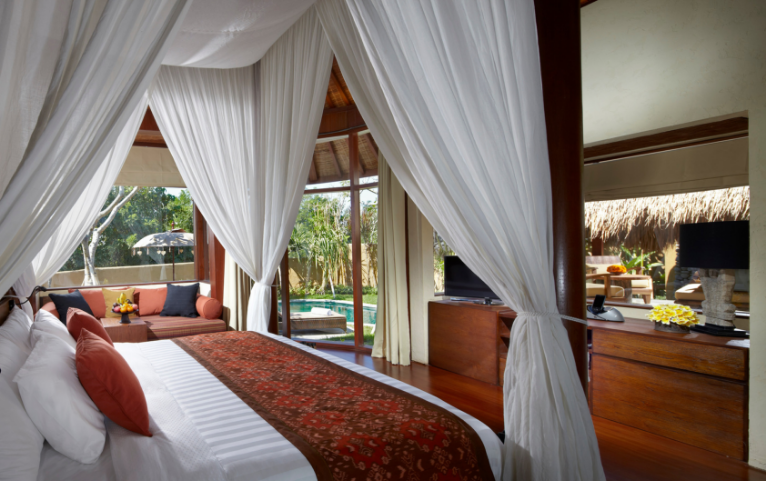 4 Nights
Experience Two Blissful Abodes in Bali
Details
Stay in a villa at the Wakagangga for 2 nights
Stay in a cottage at the NusaBay Menjangan for 2 nights
Welcome drink and cold face towel
Daily breakfast
Morning tea or coffee (in NusaBay Menjangan)
Daily afternoon tea
Snorkeling gear for snorkeling at The House Reef for couple (in NusaBay Menjangan)
One time Traditional Balinese Massage for couple (in WakaGangga)
From rice fields to temples and golden sand beaches to pristine waters, the change of scenery that Bali provide is what you need for your next vacay. WakaGangga and NusaBay Menjangan at Bali promise you the best stay and hospitality this serene locale has to offer.
Your Inclusions
Stay at WakaGangga for 2 nights
Stay at NusaBay Menjangan for 2 nights
Cool yourself down after a long journey with a refreshing welcome drink and cold face towel for each guest upon arrival at the resorts
Kick-start the day with a scrumptious à la carte breakfast daily at both the resorts
Enjoy a cup of soothing morning tea or coffee daily (available only at NusaBay Menjangan)
Rejuvenate with daily afternoon tea at both the resorts
Avail complimentary snorkelling gear at The House Reef (available only at NusaBay Menjangan)
Get pampered on your vacay with a traditional Balinese massage (available only at WakaGangga)
The Location – Between Culture and Landscapes

Beautiful beaches, extraordinary forests, hills with lush rice fields, an authentic cultural heritage, and above all the extreme kindness and gentleness of the population make Bali a popular tourist destination. The greatest attraction at Bali is its culture with centuries-old traditions that one gets to discover and explore while in the country.
The Property – The Pinnacle of Balinese Hospitality

The WakaGangga: An enchanting retreat only known to insiders, this resort is the perfect place for your next vacation. Surrounded by wild nature and full of life, your hotel offers, beyond quality services, a dazzling decoration. Wood, noble materials, luxurious tones. Here everything is calm yet larger than life. You will appreciate the exotic and warm atmosphere of the establishment, carefully balanced by a contemporary decor.
NusaBay Menjangan: The resort offers you a piece of paradise for your vacation, in spacious and friendly rooms. Combining modern style with traditional Balinese architecture, this beachfront property is near excellent snorkelling and scuba diving.

Your Rooms – Elegant and Exquisite

Villa Garden View at WakaGangga Villas 54 sq.m.: On the edge of luxury and elegance nestles your villa! Real paradise for the traveller in search of well-being, your villa is all set to charm you. From the first steps, it is a feeling of serenity that seizes you. The colours and decor bring in a sweet holiday scent.
Lanai Cottages at NusaBay Menjangan 30 sq.m.: The Lanais are built on a hillside on stilts of concrete and enjoy a beautiful view of the sea from the private balcony. The typical Balinese wooden furniture, the touches of local craftsmanship give to the whole, the colours dress up the places with simplicity and elegance.
Valid for travel from 28/05/2019 to 31/12/2019

Surcharge: Please check the booking calendar for the surcharges mentioned alongside the travel dates.

Blackout Dates: There will be dates on which this deal will be unavailable. Dates for these have been marked on the booking calendar under blackout dates.

Availability: Bookings are subject to availability. To confirm your dates of stay at purchase, click on 'Book Now' and select your preferred package. Use the calendar to browse and select the available dates. Dates with a surcharge and blackout dates are identified.

7-day Change of Heart Refund Policy: We always have one deal better than the other. So we understand your change of heart. Within 7 days of purchase, we'll happily give you an option to cancel your booking, with a full refund, as long as the cancellation date is at least 30 days before the arrival date. For cancellations after 7 days of purchase, the hotel's cancellation policy and penalty apply.

Change of Date: 1 change in dates is permissible at no additional charges, provided that the change is made at least 30 days before the original arrival date and provided that the hotel has availability on the newly requested dates. The final decision regarding date changes is at the sole discretion of the Hotel and the Hotel reserves the right to decline a change in dates, should availability not exist on newly requested dates.

Partial Prepayment: Partial prepayment options are available for certain deals. For further information, please do not hesitate to contact our Travel Concierge team, by Email (travelconcierge@fabgetaways.com) or by phone (+919099061000).
Hotel Cancellation Policy: Any cancellation will incur a full payment. A no-show on the day of arrival will also incur charges equivalent to a full stay.
Validity: Each package is valid for two adults.
Maximum Guest Capacity: The maximum room capacity is two adults and one child (aged below 12 years) or three adults. Extra adults cannot be accommodated in the same villa. See the 'Child Policy' for more details.
Extra Guest Policy: Where applicable, an extra adult can stay at - WakaGangga at a surcharge of USD 60, per room per night with an extra bed and breakfast. And at NusaBay Menjangan at a surcharge of USD 45, per room per night with an extra bed and breakfast.

Child Policy: A child (aged between 0-4 years) may stay free of charge at both the resorts. Where applicable, a child aged between 5-12 years may stay at - WakaGangga at a surcharge of USD 45, per room per night with an extra bed and breakfast. And at NusaBay Menjangan at a surcharge of USD 30, per room per night with an extra bed and breakfast.
Check-in: 2 PM
Check-out: 12 PM

The package cannot be split.

No connecting rooms are available.

Offer only available for consecutive nightly stays.

Dining inclusions do not include beverages (unless otherwise stated).

Menus are subject to change without notice.

Please note that full terms and conditions apply - refer to https://www.fabgetaways.com/terms-and-conditions
Services
At WakaGangga:
Activities

: The resort can also arrange for cycling tours, golfing, horseback riding, pottery village tours and experiential beach and rice field walks upon request.
At NusaBay Menjangan:
Island Activities

: The resort offers a wide range of activities like snorkelling, scuba diving, paddle boarding and sea kayaking for your entertainment.

Special Dinners

: Private meals can also be arranged on the seaside terrace and the beach.
Facilities
At WakaGangga:
Dining

: The Waka Bar & Restaurant offers gourmet delicacies full of rich flavours. Surrounded by the fine black sand of the beach and deep blues of the ocean, enjoy a traditional Indonesian dinner and indulge in the delights of an exotic cuisine.

Spa

: Luxuriate with Balinese massage therapies that'll help you let go, relax and rejuvenate.

Swimming Pool

: Relax by the pool and soak up the tranquil atmosphere of the place. You can also enjoy tropical drinks and light snacks by the pool, all day.

Amphitheatre

: This place is brimming with activities ranging from board games, Balinese dance lessons to cultural performances. Entry to the amphitheatre is complimentary for guests.
At NusaBay Menjangan:
Dining

: The Waka Bar & Restaurant offers you an unforgettable gastronomic experience with delectable seafood delicacies and more from the international and Indonesian cuisines. The sensational restaurant welcomes you with its refined setting.

Spa

: Indulge in an authentic massage therapy at the spa that offers a wide range of treatments for your indulgence.

Swimming Pool

: A semi-circular swimming pool with deckchairs close to the beach is designed for the water babies who wish to take a dip when it is difficult to access the sea at high tide.
Reviews
Bali is well-connected to India with one-stop flights from all major cities in India. The Ngurah Rai International Airport is approx. 30 km from your first destination - WakaGangga resort.
×
Select Trip dates
Selected dates
Surcharge dates
Available dates
Please select dates to view number of packages available
Prices for two adults with taxes