Indana Palace Jodhpur
Sold Out
Safe Getaway
An Idyllic Rajasthani Vacay with Royal Hospitality in the Blue City at Indana Palace Jodhpur
Indana Palace Jodhpur -

Jodhpur, Rajasthan, India
2 Nights / 3 Nights
Travel by 31st March, 2023
per room starting@
₹ 19,499
Prices for Two Adults & Two Children with Taxes
Discover the historical and cultural charm of the picturesque Blue City while relishing regal Rajasthani opulence and hospitality to satiate the king or queen in you with a 5-star palace hideaway at Indana Palace Jodhpur.
package options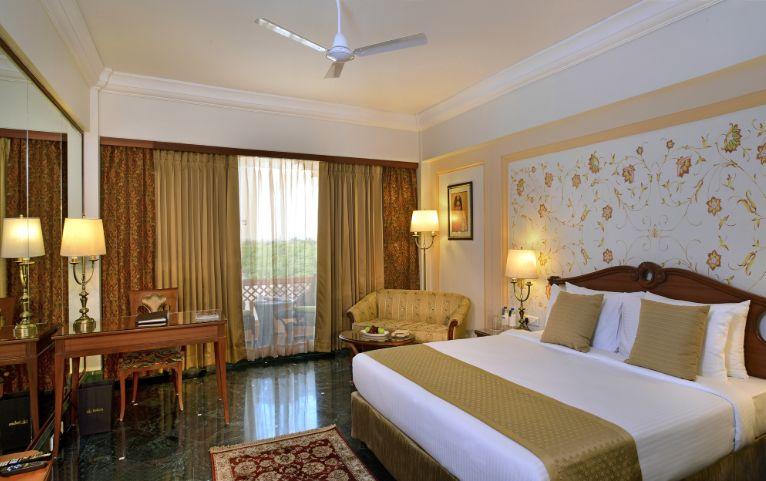 2 Nights
Premium Room - 37 sq.m
Details
Daily buffet breakfast
Daily lunch or dinner
24 Hrs free Wi-Fi
15% discount on Spa
15% discount on food and soft beverages
15% discount on laundry
Free stay & meals for 2 children below 12 years on existing bedding
Use of kids play area and other recreational facilities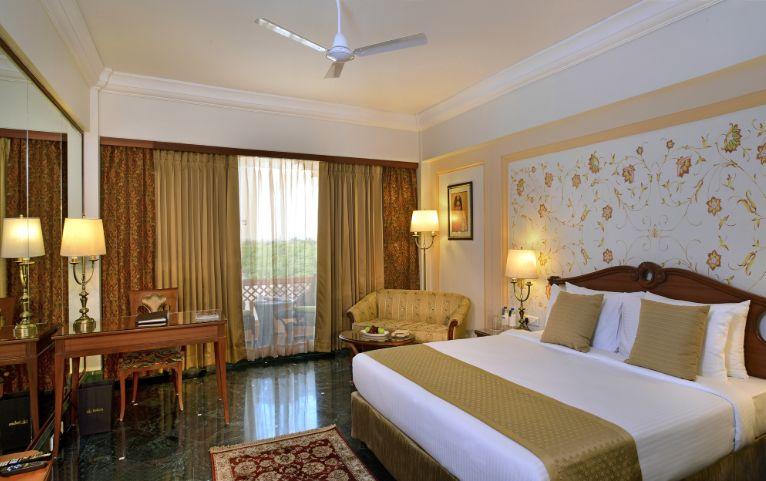 3 Nights
Premium Room - 37 sq.m
Details
Daily buffet breakfast
Daily lunch or dinner
24 Hrs free Wi-Fi
15% discount on Spa
15% discount on food and soft beverages
15% discount on laundry
Free stay & meals for 2 children below 12 years on existing bedding
Use of kids play area and other recreational facilities
Experience the luxurious lifestyle of the royal families of the bygone era with a 5-star palace retreat at Indana Palace Jodhpur, offering opulent rooms, high-end amenities, a relaxing spa, delightful gastronomy, and endearing Rajasthani hospitality.

Your Inclusions:
Rise to the delightful regal mornings in Jodhpur with a daily buffet breakfast
Tickle your taste buds during your palace retreat in Jodhpur with daily lunch or dinner
Stay in touch with the digital world during your regal vacay with complimentary Wi-Fi
Reinvigorate your soul and senses amid a regal ambience with a 15% discount on the Spa
Binge on your favourite delicacies in Jodhpur with a 15% discount on food and soft beverages
Keep your attire clean and alluring during your royal vacay with a 15% discount on laundry
Indulge in an unrivalled regal family getaway in the Blue City with free stay & meals for 2 children below 12 years on existing bedding
Revel in a fun-filled stay at the palace hotel in Jodhpur with the use of the kids' play area and other recreational facilities, i.e. Swimming Pool, Gym, etc.
The Location – The Picturesque Blue Gateway to Thar
Adorned with a myriad of historical and cultural attractions, Jodhpur is a charming microcosm of Rajasthan, known by many names, such as the Gateway to Thar, the Sun City of India, and the Blue City. Some of the most famous heritage attractions preserved in the Blue City include the grand Mehrangarh Fort, the majestic Umaid Bhawan Palace, and the beautiful Jaswant Thada. Apart from its architectural marvels, Jodhpur is also famous for its fascinating culture and oozing Rajasthani delicacies, alluring hordes of leisure travellers from all around the world to revel in its charm.
The Property – A Luxurious Palace Hideout with Royal Hospitality
Designed with awe-inspiring regal architecture to reflect the Royal Marwar heritage, Indana Palace Jodhpur boasts beautiful columns, exquisite arches and domes, meticulous jaali work, and spacious alfresco courtyards. While offering an impeccable regal Rajasthani experience, the 5-star palace hotel pampers you with well-appointed rooms, top-notch modern facilities, a luxurious spa, elegant dining, and endearing royal hospitality.
Your Room – A Cocoon of Royal Marwari Luxe
Premium Room - 37 sq.m
Tastefully decorated with regal Marwari decor, the Premium Room indulges you in an unparalleled royal Rajasthani stay by featuring a cosy king bed or twin beds, high-end amenities, a plush bathroom, and more. The spacious room also mesmerises you during your royal sojourn by offering breathtaking views of the Blue City.
SAFE GETAWAYS
Your safety is of utmost priority to us. Which is why we are bringing you certified getaways to make sure your stay is safe and worry-free. Properties that tick all the boxes of our safety guidelines checklist get the Safe Getaway stamp while the rest are self-certified and follow their own set of protective measures.
Physical distancing of at least 6 feet to be followed as far as feasible
All guests and employees are required to wear face shields/masks
Every staff member and guest is required to follow proper hand hygiene such as frequent washing of hands and use of alcohol-based sanitizers. Both measures are facilitated by the hotel
There is sufficient provision of hand sanitizers in guest rooms and public areas
Guests are required to provide their travel history and medical records at the time of check-in and the same has to be looked into and maintained. ID and self-declaration form is provided by each guest at the reception
Luggage is disinfected before being sent to the room
Room service or takeaway is facilitated and encouraged
Regular and effective sanitation within the premises is maintained with particular focus on lavatories, drinking and handwashing stations/areas.
Frequently touched surfaces such as doorknobs, elevator buttons, handrails, benches, washroom fixtures, etc. are cleaned and disinfected on a regular basis
Deep cleaning of all washrooms is ensured at regular intervals
Thermal screening of all guests and employees before they enter the property is compulsory
Regular staff training is initiated for maintaining social distancing norms, hand hygiene and respiratory etiquette
Valid for travel from 28/10/2022 to 31/03/2023
Surcharge: No high-season surcharges apply for this deal so that you can enjoy the insider prices across the travel period!
Blackout Dates: There will be dates on which this deal will be unavailable. Dates for these have been marked on the booking calendar under blackout dates.
FABcredits: FABcredits cannot be redeemed on this deal, as the prices already have the best discounts we could offer.
Availability: Bookings are subject to availability. To confirm your dates of stay at purchase, click on 'Book Now' and select your preferred package. Use the calendar to browse and select the available dates. Dates with a surcharge and blackout dates are identified.
Change of Date: 1 change in dates is permissible at no additional charge, provided that the change is made at least 7 days before the original arrival date and provided that the hotel has availability on the newly requested dates. The final decision regarding date changes is at the sole discretion of the Hotel and the Hotel reserves the right to decline a change in dates, should availability not exist on newly requested dates.
Partial Prepayment: Partial prepayment options are available for certain deals. For further information, please do not hesitate to contact our Travel Concierge team, by Email (travelconcierge@fabgetaways.com) or by phone (+919099061000).
Hotel Cancellation Policy: All cancellations will be completely free and qualify for a 100% refund in the form of FABcredits, provided it is done at least 7 days prior to the check-in date. Past that, any cancellation, including a no-show on the day of arrival, will incur a full payment. Refunds in the original mode of payment would be possible; however, would incur a 3.5% transaction charge.
Each package is valid for two adults.
Maximum Guest Capacity: The maximum room capacity is two adults and two children (aged below 12 years) or three adults. See the 'Extra Guest Policy' and 'Child Policy' for more details.
Extra Guest Policy: An extra adult can stay at a surcharge of INR 2000 per night, which includes an extra bed and the inclusions available in the package, payable at the resort directly.
Child Policy: Where applicable, two children aged between 0 - 12 years may stay free of charge on existing bedding, in case extra bed is required, it will be at INR 1600, these charges include an extra bed and the inclusions available in the package, payable at the resort directly.
Check-in: 2 PM
Check-out: 12 PM
The package cannot be split.
No connecting rooms are available.
Offer only available for consecutive nightly stays.
Dining inclusions do not include beverages (unless otherwise stated).
Menus are subject to change without notice.
Please note that full terms and conditions apply - refer to FABgetaways.com/terms&conditions
Services
Free Wi-Fi: Stay in touch with your friends and family to share the delightful moments of your fabulous Rajasthani vacay in Jodhpur with them by accessing the complimentary high-speed internet connection available at the hotel.
Travel Desk: Explore the fascinating historical, cultural, and rustic beauty of Jodhpur conveniently by embarking on enthralling excursions arranged by the hotel's travel desk, including Mehrangarh Fort, Rani ki Chatri, Government Museum, Jaswant Thada, and more.
Facilities
Spa: Reconnect with your soul and senses amid the royal palace ambience by relishing a wide range of rejuvenating treatments and massages offered at the hotel's opulent spa, Zodiac.
Swimming Pool: Experience a splash of serenity amid the scorching heat of Rajasthan by taking a refreshing dip in the azure waters of the hotel's exquisite pool equipped with a Jacuzzi.
Health Club: Resume your fitness routine during your royal Rajasthani vacay by exercising with sophisticated fitness equipment at the hotel's Health Club.
Beauty Salon: Indulge in unrivalled personal care during your palace retreat in Jodhpur with a wide range of impeccable beauty treatment services offered at the hotel's beauty salon.
Billiards Room: Revel in some memorable recreational moments during your regal Rajasthani getaway by playing an exciting game of billiards with your friends and family in the billiards room of the hotel.
Children's Play Area: Witness your little ones indulge in a fun-filled vacay in Jodhpur as they engage in a wide range of games and activities in the Children's Play Area of the hotel.
Boutique: Take home all the delightful memories of your royal Rajasthani vacay by encapsulating them in some exquisite souvenirs available at the hotel's elegant boutique.
Dining: Embark on a royal culinary journey during your palace stay in Jodhpur by enjoying an extensive repertoire of delectable cuisines and crisp beverages from across the world at the hotel's various dining venues.
Angithi:

Revel in an unrivalled gastronomic experience in Jodhpur by relishing a wide range of regional, Continental, and Oriental delicacies in an elegant ambience decorated with regal Rajasthani motifs, carvings, and furnishings at the hotel's multi-cuisine restaurant, Angithi.

Lotus Cafe:

Unwind with your friends and family while sipping on your favourite beverages with light snacks in a fabulous setting embellished with lotus paintings at the hotel's exquisite coffee shop, Lotus Cafe.

i-Bar:

Celebrate your relaxing vacation in Jodhpur in royal style by sipping on your favourites from a wide selection of libations, including wines, whiskeys, gins, vodkas, cocktails, and more, with some tasty snacks at the hotel's luxurious i-Bar.

The Courtyard:

Savour a wide range of delights in buffet style amidst the spacious, alfresco ambience of the hotel's Courtyard with folk entertainment to indulge in a memorable dining experience.
Reviews
By Air
The Jodhpur Airport, located 13 km (approx. 20 minutes) away, is the nearest airport to the hotel. It has decent flight connectivity with regular non-stop flights, available from Delhi and Mumbai, and connecting flights from Chennai, Bangalore, and Kolkata.
By Rail
The Jodhpur Junction is located 9 km (approx. 15 minutes) away from the hotel. The railhead is well-connected to nearly all parts of India, with regular trains available from major cities, such as Delhi, Mumbai, Bangalore, Chennai, and Kolkata.
By Road
Regular private buses ply for Jodhpur from Delhi, while the state transport buses connect the city to nearly every part of Rajasthan, including Jaipur, Udaipur, and Jaisalmer. You can also drive to the hotel via a 4.5-hour (274 km) route from Jaisalmer, a 6-hour (362 km) route from Jaipur, a 5-hour (263 km) route from Udaipur, an 8.5-hour (456 km) route from Ahmedabad or an 11-hour (629 km) route from Delhi.
×
Select Trip dates
Selected dates
Surcharge dates
Available dates
Please select dates to view number of packages available
Prices for Two Adults & Two Children with Taxes