Award-winning wildlife getaway with all-inclusive dining at the Kanha Earth Lodge
Kanha Earth Lodge -

Kanha National Park, Madhya Pradesh, India
2 Nights / 3 Nights
Travel by 30th June, 2021
per room starting@
₹ 24,599
Prices for two adults with taxes
Escape to a realm of ecological magnificence, wilderness, and rustic traditions engulfed in exceptional luxury to reconnect with nature and wildlife in the heart of India at Kanha Earth Lodge with these enticing deals.
package options
2 Nights
Bungalow - 55 sq.m
Details
Daily breakfast
Daily lunch and dinner
A private bush dinner
One Mahua cocktail per stay
Nature walk with a trained naturalist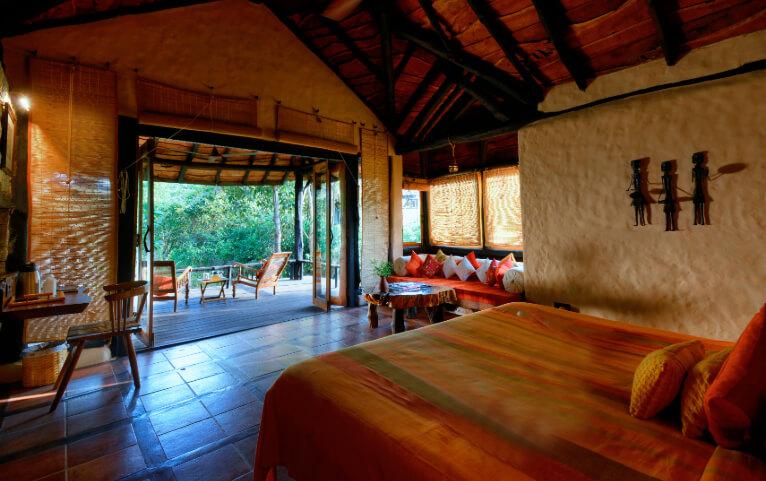 3 Nights
Bungalow - 55 sq.m
Details
Daily breakfast
Daily lunch and dinner
A private bush dinner
One Mahua cocktail per stay
Nature walk with a trained naturalist
Cycling tour of the local village
Witness the charming beauty of the wild unfold itself while you revel in unsurpassed comfort and luxury at the Kanha Earth Lodge with sophisticated facilities and unforgettably pleasing experiences.
Your Inclusions:
Start your mesmerizing mornings amidst wilderness with a delicious daily breakfast
Indulge in culinary delights with a scrumptious daily lunch and dinner
Savour your delicious meal in the wild with a private bush dinner
Raise a toast to celebrate your vacay with a Mahua cocktail per person, once during the stay
Discover the wild magnificence of Kanha on a nature walk with a trained naturalist
Pedal through Kanha to explore its rustic beauty on a cycling tour of the local village on booking a 3-night stay
The Location – A Wild Wonder
Adorned with majestic hills, verdant forests, and lush meadows, Kanha National Park serves as a quintessential destination to spend some time in the lap of nature and wilderness. Home to a wide range of wildlife species, including tigers, leopards, foxes, bison, and the endangered Barasingha, Kanha attracts numerous wildlife lovers and travellers to explore its charm.
The Property – Wilderness at its Best
Kanha Earth Lodge makes for a perfect hideout with 12 luxury bungalows designed in the traditional Gond fashion to let you blend in with Kanha's wilderness. Located near Kanha National Park's buffer zone, the lodge also offers a multitude of luxe facilities and memorable wildlife experiences to ensure a comfortable stay.
Your Room – Luxury in the Wild
Bungalow - 55 sq.m: Built in the traditional Gond style using local materials such as stones and waste wood, the spacious Bungalow offers unparalleled luxury engulfed in a wild, rustic vibe. The charming cottage features contemporary amenities, a cosy king-sized bed, a lavish bathroom, and an enormous verandah to let you thoroughly enjoy the wild outdoor ambience.
SAFE GETAWAYS
Your safety is of utmost priority to us. Which is why we are bringing you certified getaways to make sure your stay is safe and worry-free. Properties that tick all the boxes of our 12-point safety checklist get the Safe Getaway stamp while the rest are self-certified and follow their own set of protective measures.
Physical distancing of at least 6 feet to be followed as far as feasible.

All guests and employees are required to wear face shields/masks.

Every staff member and guest is required to follow proper hand hygiene such as frequent washing of hands and use of alcohol-based sanitizers. Both measures are facilitated by the hotel.

There is sufficient provision of hand sanitizers in guest rooms and public areas.

Guests are required to provide their travel history and medical records at the time of check-in and the same has to be looked into and maintained. ID and self-declaration form is provided by each guest at the reception.

Luggage is disinfected before being sent to the room.

Room service or takeaway is facilitated and encouraged.

Regular and effective sanitation within the premises is maintained with particular focus on lavatories, drinking and handwashing stations/areas.

Frequently touched surfaces such as doorknobs, elevator buttons, handrails, benches, washroom fixtures, etc. are cleaned and disinfected on a regular basis.

Deep cleaning of all washrooms is ensured at regular intervals.

Thermal screening of all guests and employees before they enter the property is compulsory.

Regular staff training is initiated for maintaining social distancing norms, hand hygiene and respiratory etiquette.
Valid for travel from 15/10/2020 to 30/06/2021

Surcharge: No high-season surcharges apply for this deal so that you can enjoy the insider prices across the travel period!
Blackout Dates: There will be dates on which this deal will be unavailable. Dates for these have been marked on the booking calendar under blackout dates.
FABcredits: FABcredits cannot be redeemed on this deal, as the prices already have the best discounts we could offer.
Availability: Bookings are subject to availability. To confirm your dates of stay at purchase, click on 'Book Now' and select your preferred package. Use the calendar to browse and select the available dates. Dates with a surcharge and blackout dates are identified.
Change of Date: 1 change in dates is permissible at no additional charge, provided that the change is made at least 30 days before the original arrival date and provided that the hotel has availability on the newly requested dates. The final decision regarding date changes is at the sole discretion of the Hotel and the Hotel reserves the right to decline a change in dates, should availability not exist on newly requested dates.
Partial Prepayment: Partial prepayment options are available for certain deals. For further information, please do not hesitate to contact our Travel Concierge team, by Email (travelconcierge@fabgetaways.com) or by phone (+919099061000).
Hotel Cancellation Policy: All cancellations will be completely free and qualify for a 100% refund, provided it is done at least 7 days prior to the check-in date. Past that, any cancellation, including a no-show on the day of arrival, will incur a full payment.
Each package is valid for two adults.
Maximum Guest Capacity: The maximum room capacity is two adults and two children (aged below 12 years) or 3 adults. See the 'Extra Guest Policy' and 'Child Policy' for more details.
Extra Guest Policy: Where applicable, an extra adult can stay at a surcharge of INR 4,000 per night, with an extra bed and the inclusions available in the package, payable directly at the resort.
Child Policy: Where applicable, a child aged between 0 - 5 years may stay free of charge using existing bedding, a child aged between 6 - 12 years may stay at a surcharge of INR 2,500 per night, these charges include an extra bed and the inclusions available in the package, payable directly to the resort.
Check-in: 12:00 PM
Checkout: 11:00 AM
The package cannot be split.
No connecting rooms are available.
Offer only available for consecutive nightly stays.
Dining inclusions do not include beverages (unless otherwise stated).
Menus are subject to change without notice.
Please note that full terms and conditions apply - refer to https://www.fabgetaways.com/terms-and-conditions
Services
Jeep Safari: Explore the wilderness of Kanha more closely with exciting safaris arranged by the lodge in comfortable jeeps, specially designed to let you enjoy panoramic views of the forest.
Elephant Safari: Whether you wish to take a short ride or go on a half-day trip, the lodge can arrange thrilling elephant safaris for you, on prior request.
Bird Watching: Meet a wide variety of feathered friends in Kanha and know more about them by setting out on bird-watching expeditions with experienced bird watchers.
Tribal Village Visit: Discover the rural life and culture of Kanha by visiting a local Gond village to interact with Kanha's rural population.
Crafts Workshop: The lodge can arrange engaging craft workshops to help you learn the local arts of woodcarving, pottery, and painting from proficient artisans in the village.
Nature Walk: Unearth the hidden paths in the lush forests near the lodge to revel in the ecological magnificence of Kanha at your pace while being accompanied by the lodge's experienced naturalists.
Cycling: Pedal through the boulevards in Kanha to explore a plethora of attractions, such as the Banjaar River, small lakes and tribal homes by availing the cycling rides offered by the lodge.
Facilities
Nature Library: Learn more about the ecology of the region and its conservation at the lodge's Nature Library which also exhibits various interactive presentations on Kanha.
Eco Shop: Encapsulate the ecstatic moments of your vacay in the wild by getting a souvenir for yourself or gifts for your family and friends from the Eco Shop.
Swimming Pool: Surrounded by Mahua trees, the infinity pool at the lodge is a charm that refreshes you with its cold, azure waters amidst the soothing serenity of Kanha.
Dining: Indulge in a captivating culinary experience at the lodge's exquisite dining hall to relish a variety of delectable cuisines from all across the world, including Indian and Continental.
Reviews
By Air
Jabalpur Airport, situated 186 km (approx. 4 hours) away, is the closest airport to the lodge. It gets regular non-stop flights from cities such as Delhi, Mumbai, Kolkata, and Hyderabad.
By Road
You can also drive to the lodge via a 6-hour route from Nagpur or a 9.5-hour route from Bhopal.
By Rail
Jabalpur Railway Station is the nearest railhead, located 189 km (approx. 4 hours) away from the lodge. The railway station is well-connected to most major cities of India, including Delhi, Mumbai, Chennai, Bangalore, and Kolkata.
×
Select Trip dates
Selected dates
Surcharge dates
Available dates
Please select dates to view number of packages available
Prices for two adults with taxes