A Reposeful Getaway in Heavenly Himachal at La Ri Sa Manali
LaRisa Resort Manali -

Manali, Himachal Pradesh, India
3 Nights / 5 Nights
Travel by 14th April, 2021
per room starting@
₹ 17,999
Prices for two adults with taxes
Enjoy 3 and 5 nights of luxurious bliss burrowed amidst the mountains, in the lap of mother nature in the snowy regions of Himachal Pradesh. An ultimate favourite for family getaways, La Ri Sa Resort Manali is the ideal choice for that vacation you've always looked forward to.
package options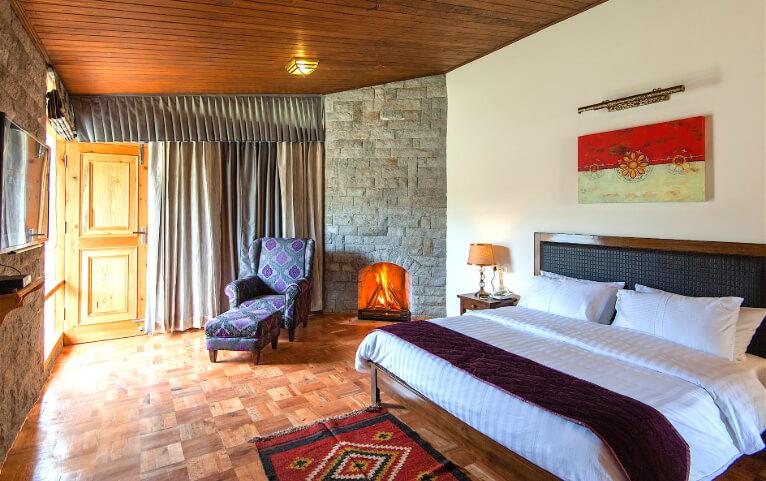 3 Nights
Deluxe Room - 33 sq.m
Details
Daily breakfast
Welcome drink on arrival
A nightly cocktail per person
Candle light dinner, once during the stay
1000 spa credit points
10% discount on laundry
20% discount on special food services - BBQ/private dining
10% discount on food & beverages
5 Nights
Deluxe Room - 33 sq.m
Details
Daily breakfast
Welcome drink on arrival
A nightly cocktail per person
Candle light dinner, once during the stay
1000 spa credit points
10% discount on laundry
20% discount on special food services - BBQ/private dining
10% discount on food & beverages
Along with a comfortable stay, the La Ri Sa Manali offers stunning views of the valley and the mountains along with impeccable services. Perfect for an escape filled with peaceful moments and inspiring vistas, this mountain resort promises a memorable and rejuvenating stay.
Your Inclusions:
Have a delightful start to the day with daily Indian/American breakfast
Relish the start of a relaxing vacay with a welcome drink on arrival
Enjoy the views of the silhouettes of the mountains as you sip on a nightly cocktail/mocktail
Stir up the romance with a perfect candlelit dinner, once during the stay
Enjoy a soothing spa session with 1000 spa credit points per person to be redeemed against any spa service over INR 2500/-
Keep your clothes looking crisp and neat with a 10% discount on Laundry
Indulge in a hearty snack or meal with a 20% discount on BBQ/private dining
Make your stay even more wholesome with a 10% discount on food & beverages
Make your stay more exciting with complimentary access to kids' room, pool table, bicycle, library and swimming pool
The location – The Hidden Charm Of Himachal
The district of Kullu in Himachal Pradesh is often referred to as Devbhoomi, or the land of the gods. Blessed with the majesty of the mountains, and the Beas, a tributary of the Indus, it boasts of an enchanting beauty that leaves all its visitors captivated.

La Ri Sa Manali derives its name from the local language of Lahul. La means the sky, Ri, the mountains, and Sa the earth. And everything at LaRiSa Resort in Manali feels like it comes from the earth, just like its name. Orchards stretch out in seemingly endless waves of apple trees. Cottages of stone and wood blend seamlessly into the landscape. And a bounty of flowers, vegetables, beans, and herbs grow in the garden beyond.
The property - Comfort Amidst Exquisite Surroundings
Located in Haripur, right on the Manali-Naggar Road, La Ri Sa Manali is surrounded by majestic peaks and exquisite surroundings. It is an eco-resort set amidst an apple orchard and offers panoramic views of the surrounding valleys and mountains.
Each Cottage at the resort has been carefully designed to minimize any impact on its natural surroundings and offers a unique travel experience. Nestled away in the mountains, this resort gives you the perfect environment amidst serenity, nature and the most beautiful sights to let you discover its beauty and yourself.
Your Room – Your Place For Cosy Leisure
Deluxe Room- 33 sq.m:- Large, spacious and airy, the Deluxe Rooms at La Ri Sa Resort, Manali brings in the perfect blend of rustic and cosy. Featuring a king-size double bed, an attached bathroom and modern amenities, the room also comes with a balcony that lets you enjoy picturesque views of the mountains and the surrounding orchard.
SAFETY GUIDELINES
Your safety is of utmost priority to us. Which is why we are bringing you certified getaways to make sure your stay is safe and worry-free. Properties that tick all the boxes of our 12-point safety checklist get the Safe Getaway stamp while the rest are self-certified and follow their own set of protective measures.
Physical distancing of at least 6 feet to be followed as far as feasible.
All guests and employees are required to wear face shields/masks.
Every staff member and guest is required to follow proper hand hygiene such as frequent washing of hands and use of alcohol-based sanitizers. Both measures are facilitated by the hotel.
There is sufficient provision of hand sanitizers in guest rooms and public areas.
Guests are required to provide their travel history and medical records at the time of check-in and the same has to be looked into and maintained. ID and self-declaration form is provided by each guest at the reception.
Luggage is disinfected before being sent to the room.
Room service or takeaway is facilitated and encouraged.
Regular and effective sanitation within the premises is maintained with particular focus on lavatories, drinking and handwashing stations/areas.
Frequently touched surfaces such as doorknobs, elevator buttons, handrails, benches, washroom fixtures, etc. are cleaned and disinfected on a regular basis.
Deep cleaning of all washrooms is ensured at regular intervals.
Thermal screening of all guests and employees before they enter the property is compulsory.
Regular staff training is initiated for maintaining social distancing norms, hand hygiene and respiratory etiquette.
Valid for travel from 13/10/2020 to 14/10/2021
Surcharge: A non-refundable surcharge per room, per night, applies payable directly to FABgetaways at time of booking. Dates and prices have been identified in the Booking Calendar.
Blackout Dates: There will be dates on which this deal will be unavailable. Dates for these have been marked on the booking calendar under blackout dates.
FABcredits: FABcredits cannot be redeemed on this deal, as the prices already have the best discounts we could offer.
Availability: To confirm your dates of stay at purchase, click on 'Book Now' and select your preferred package. Use the calendar to browse and select available dates. Dates with a surcharge and blackout dates are identified.
Change of Date: 1 change in dates is permissible at no additional charges, provided that the change is made at least 30 days prior to the original arrival date and provided that the hotel has availability on the newly requested dates. The final decision regarding date changes is at the sole discretion of the Hotel and the Hotel reserves the right to decline a change in dates, should availability not exist on newly requested dates.
Partial pre-payment options are available for certain deals. For further information, please do not hesitate to contact our Travel Concierge team, by Email (travelconcierge@fabgetaways.com) or by phone (+919099061000).
Hotel Cancellation Policy: All cancellations will be completely free and qualify for a 100% refund, provided it is done at least 7 days prior to the check-in date. Past that, any cancellation, including a no-show on the day of arrival, will incur a full payment.
Each package is valid for two adults
Maximum Guest Capacity: The maximum room capacity for all the room categories is two adults and one child or three adults. See the 'Extra Guest Policy' and 'Child Policy' for more details.
Extra Guest Policy: One adult may stay for a surcharge of INR 2,500 per room per night with all the package inclusions (as given in Highlights), payable directly to the resort.
Extra Child Policy: One child (aged between 0-5 years) may stay free of charge while one child (aged between 6-12 years) may stay for a surcharge of INR 2,000 per room per night with all the package inclusions (as given in Highlights), payable directly to the resort.
The package cannot be split.
Connecting rooms are not available.
Offer only available for consecutive nightly stays.
Dining inclusions do not include beverages (unless otherwise stated).
Menus are subject to change without notice.
Please note that full terms and conditions apply - refer to FABgetaways.com/terms&conditions
Services
Private Dining: You can enjoy a private dinner amidst the orchards in seclusion with a perfectly cooked meal and a bottle of wine upon request.
Activities: The resort offers you a number of activities like gardening, orchard tours and barbeque experiences to keep you intrigued and amazed throughout your stay in Manali.
Facilities
Spa: A world-class spa, complete with a sauna and a steam shower, the spa at La Ri Sa aims to Relax, Rejuvenate and Revive your mind, body and soul with the traditional and Thai therapies it offers.
Dining: The resort has a restaurant and a bar where you can enjoy a great meal and some refreshing drinks as you savour the sights of the scenic surroundings.
Naivedyam:

At Naivedyam, the resort's multi-cuisine restaurant, you can give the local Kullu cuisine which is prepared using fresh and organic vegetables and fruits from the garden a taste. But if you're up for something more regular, continental and Chinese cuisines are also on the menu at the restaurant.

Madushala:

La Ri Sa's white-bricked bar, Madhushala, serves a variety of refreshing libations, including hot toddies, whisky sours, cocktails and many more.
Reviews
By Air
The nearest airport is Bhuntar airport, around 50 km (approx 1.5 hours) away from Manali, which has regular direct flights from Delhi and Chandigarh.
By Road
You can arrive at the resort via a 8.5-hour (275 km) drive from Chandigarh or a 9-hour (325km) drive from Ambala.
By Rail
The nearest major railway station is located in Jogindernagar Railway Station which is 163 km (approx 4.5 hours) away from Manali.
×
Select Trip dates
Selected dates
Surcharge dates
Available dates
Please select dates to view number of packages available
Prices for two adults with taxes