Radisson Hotel Nathdwara
Sold Out
An extraordinary escape amidst the Aravali hills at The Radisson, Nathdwara
Radisson Hotel Nathdwara -

Nathdwara, Rajasthan, India
1 Nights / 2 Nights
Travel by 30th September, 2023
per room starting@
₹ 5,299
Price for Two Adults with Taxes
Indulge in the luxurious ambience and hospitality of The Radisson,Nathdwara in Rajasthan on your visit to the famous Shrinathji Temple. The property is conveniently located with an approximate distance of 60 kms from Udaipur Airport. The elegant rooms offer a view of the Statue of belief, the world's largest statue of the lord Shiva. This five star property is a fully vegetarian paradise.
package options
1 Night
Superior Room with Valley View - 32 m sq
Details
Welcome drink on arrival
Daily Breakfast
Spa services with a 20% off
Statue of belief tickets with 50% off
1 Night
Superior Room with Statue View - 32 m sq
Details
Welcome drink on arrival
Daily Breakfast
Spa services with a 20% off
Statue of belief tickets with 50% off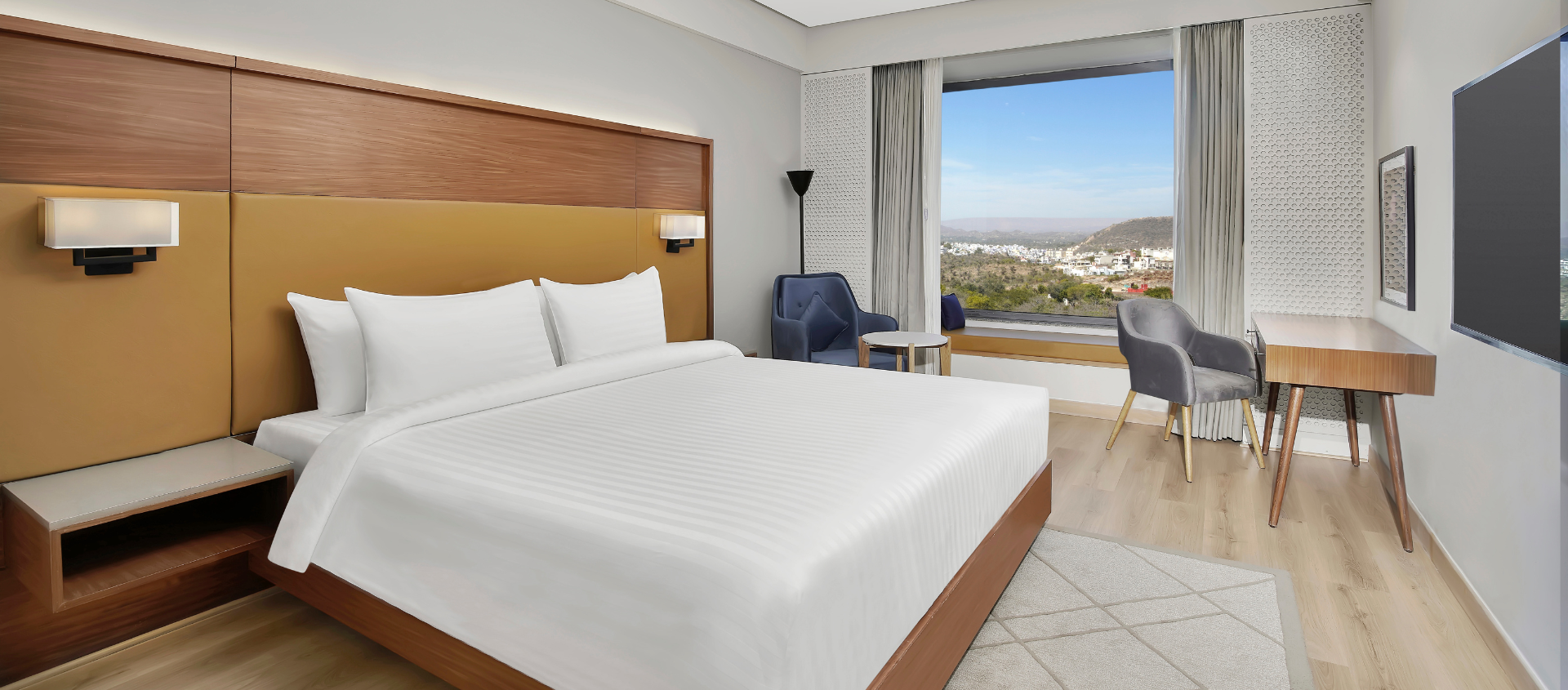 2 Nights
Superior Room with Valley View - 32 m sq
Details
Welcome drink on arrival
Daily Breakfast
Spa services with a 20% off
Statue of belief tickets with 50% off
2 Nights
Superior Room with Statue View - 32 m sq
Details
Welcome drink on arrival
Daily Breakfast
Spa services with a 20% off
Statue of belief tickets with 50% off
Spend the time of your life in this posh property of The Radisson, Nathdwara nestled in the Aravalli hills. This property is surrounded with scenic views of the statue of faith, the largest statue of shiva on one side and mesmerizing valley views on the other. Relish the variety of different vegetarian Indian cuisines in the Akashganga dining space. Enjoy the therapeutic and relaxing spa and unwind your soul with their professional spa services.Strengthen the bonds of the family with this meaningful getaway.
Your Inclusions :
Experience a warm and heartfelt welcome with refreshing drinks on your arrival.
Soak yourself in the deep massage and unwind with 20% off on spa services.
When you roam around the town, don't forget to avail 50% off on tickets to witness the statue of belief.
Delicious breakfast sets the tone of the day, so set your day right with our daily breakfast option offering taste and variety.


The Location :
The town of Nathdwara, famous for its Picchwai artwork is a city in the Rajsamand district inRajasthan. It is located amidst the Aravalli hills with Banas river flowing by. Udaipur is the nearest major city within a distance of 40km.Dive into the culturally rich and beautiful diversity of this town. The major attractions include the famous Shrinathji temple, the Statue Of Belief, the largest Statue of Lord Shiva which are located within 3km of the hotel premises. One can also visit the Haldighati mountain pass (14km) and Eklingji temple (21km).
The Property :
The newly built and tastefully designed five star property is a magnificent stay in the city of the Nathdwara. Having spacious and elegant rooms to make you feel at ease. The all day restaurant Akashganga serves scrumptious vegetarian delicacies, lounge bar Suralaya offers delicious drinks to keep you happy and full day long. The property offers a therapeutic and relaxing treat with their first class spa services.
Your Room :
Superior Room with Valley View - 32m sq.:
Fully equipped with top notch facilities, this room is spacious and ventilated for a comfortable stay. The amenities include a mini bar, rain shower, free wifi and working desk among others. The king side bed is super comfortable giving you a deep and relaxing sleep. Enjoy the mesmerizing valley view from the room.
Superior Room with Statue View - 32m sq.:
Wake up to an awe-inspiring view of the statue of belief. This room is loaded with modern amenities to suit your needs in the best possible manner. A well intact mini bar, free wifi, and a king size bed with fresh linen to provide you with the deep and comfortable sleep that you deserve.
Your safety is of utmost priority to us. This is why we are bringing you certified getaways to make sure your stay is safe and worry-free. Properties that tick all the boxes of our 12-point safety checklist get the Safe Getaway stamp while the rest are self-certified and follow their own set of protective measures.
Physical distancing of at least 6 feet is to be followed as far as feasible.
All guests and employees are required to wear face shields/masks.
Every staff member and guest is required to follow proper hand hygiene such as frequent washing of hands and use of alcohol-based sanitizers. Both measures are facilitated by the hotel.
There is sufficient provision of hand sanitizers in guest rooms and public areas.
Guests are required to provide their travel history and medical records at the time of check-in and the same has to be looked into and maintained. ID and self-declaration form is provided by each guest at the reception.
The luggage is disinfected before being sent to the room.
Room service or takeaway is facilitated and encouraged.
Regular and effective sanitation within the premises is maintained with a particular focus on lavatories, drinking, and handwashing stations/areas.
Frequently touched surfaces such as doorknobs, elevator buttons, handrails, benches, washroom fixtures, etc. are cleaned and disinfected on a regular basis.
Deep cleaning of all washrooms is ensured at regular intervals.
Thermal screening of all guests and employees before they enter the property is compulsory.
Regular staff training is initiated for maintaining social distancing norms, hand hygiene, and respiratory etiquette.
Valid for travel from 11/07/2023 to 30/09/2023

Surcharge: A non-refundable surcharge per room per night applies directly to FABgetaways, payable at the time of booking. Dates and prices have been identified in the Booking Calendar.
Blackout Dates: There will be dates on which this deal will be unavailable. Dates for these have been marked on the booking calendar under blackout dates.
Availability: Bookings are subject to the availability of the respective villas. To confirm your dates of stay at purchase, click on 'Book Now' and select your preferred package. Use the calendar to browse and select the available dates. You can also customize your stay at the Resort by entering your confirmation number once the booking is made.
Change of Date: 1 change in dates is permissible at no additional charge, provided that the change is made at least 3 days before the original arrival date and provided that the Hotel has availability on the newly requested dates. The final decision regarding date changes is at the sole discretion of the Hotel, and the Hotel reserves the right to decline a change in dates should availability not exist on newly requested dates.
Partial Prepayment: Partial prepayment options are available for certain deals. For further information, please do not hesitate to contact our Travel Concierge team by Email (travelconcierge@fabgetaways.com) or by phone (+919099061000).
Hotel Cancellation Policy: All cancellations will be completely free and qualify for a 100% refund in FAB credits only, provided it is done at least 3 days before the check-in date. Past that, any cancellation, including a no-show on the day of arrival, will incur a full payment. Refunds in the original mode of payment would be possible; however, they would incur a 3.5% transaction charge.
Validity: The package is valid for 2 adults along with 1 child or 3 adults, depending on the type of accommodation you choose.
Extra Guest Policy : Where applicable, an extra adult can stay at a surcharge of INR 1300 per night, with an extra bed and the inclusions available in the package, payable directly at the resort.
Child Policy: A child aged between 0-6 years may stay free of charge. Where applicable, a child aged between 6-12 years may stay at a surcharge of INR 200 per night (without extra bed) or INR 1200 per night (with extra bed) along with inclusions available in the package, payable directly at the resort.
Terms & Conditions

Check-in: 2:00 PM
Checkout: 12:00 PM
The package cannot be split
No connecting rooms are available.
Offer only available for consecutive nightly stays.
Services :
Free Wifi - Stay connected with your loved ones with high speed internet at the property.
Spa - Unwind with the first class spa services and immerse yourself in the goodness of a deep massage.
Room Service - Don't feel like stepping out for the meals, no worries our room service will take care of it.
Facilities:
Outdoor pool - Take a dip on a sunny day in the outdoor pool.
Fitness center - We have your back on the vacation in regards with your fitness regime as well.
Parking - Enjoy hassle free parking as ample space is available.
All day dining restaurant - Savour lip smacking and flavourful dishes at the all day dining restaurant.
Bar - Sit back, relax and relish skillfully crafted cocktails at the hotel bar.
Wheelchair accessibility - The hotel provides wheelchair facilities.
Reviews
By Air :
Nearest airport - Udaipur
It is located 60 km approx from Nathdwara.
Udaipur Airport is well connected with major cities like Delhi ,Jaipur, Jodhpur.
By Road :
Distance from Udaipur- 40 km approx
Distance from Delhi - 650 km approx
Distance from Jaipur - 350 km approx
Distance from Jodhpur - 200 km approx
For any questions or queries to book the deal, you can contact us at travelconcierge@fabgetaways.com or check our FAQs.
×
Select Trip dates
Selected dates
Surcharge dates
Available dates
Please select dates to view number of packages available
Price for Two Adults with Taxes