Syna Tiger Resort
Sold Out
Safe Getaway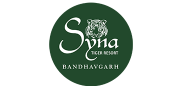 Rendezvous with the wild in Bandhavgarh at the Syna Tiger Resort
Syna Tiger Resort -

Bandhavgarh, Madhya Pradesh, India
Travel by 30th June, 2021
per room starting@
₹ 20,899
Prices for two adults with taxes
Located right at the edge of the Bandhavgarh National Park, the Syna Tiger Resort seamlessly blends luxury and the wilderness that surrounds it. Set in an area spanning over an enormous 85 acres, this jungle resort brings you an experience filled with memorable experiences, delectable food and a variety of unique accommodations that ooze opulence and elegance.
package options
2 Nights
Tribal Cottage - 45 sq.m
Details
Daily breakfast, lunch, and dinner
One nightly alcoholic beverage
Complimentary jeep drive around the buffer zone
A bush dining experience
2 Nights
Luxury Cottage - 55 sq.m
Details
Daily breakfast, lunch, and dinner
One nightly alcoholic beverage
Complimentary jeep drive around the buffer zone
A bush dining experience
2 Nights
Theme based Cottage - 55 sq.m
Details
Daily breakfast, lunch, and dinner
One nightly alcoholic beverage
Complimentary jeep drive around the buffer zone
A bush dining experience
Details
Daily breakfast, lunch, and dinner
One nightly alcoholic beverage
Complimentary jeep drive around the buffer zone
A bush dining experience
Just beside Bandhavgarh National Park, the Syna Tiger Resort is a paradise for wildlife enthusiasts and nature lovers. The rich flora and fauna around the resort bring a sense of adventure while the gorgeous theme based cottages and suites add to its charm.
Your Inclusions:
Indulge in delightful offerings every day with daily breakfast, lunch and dinner
Match the wild spirit of your surroundings with one nightly alcoholic beverage during the stay
Feast your eyes on nature's best on a jeep drive around the buffer zone
Tantalize your senses with an exclusive bush dining experience
The location – Luxury Blended with the Adventure of Wildlife

Situated on the edge of Bandhavgarh National Park, the jungle around the resort makes you feel one with nature. This territory, that the Royal Bengal Tiger calls its home, has beautiful trails and cycling tracks for bird watching. The serenity of the green surrounding rejuvenates your mind and is a paradise for wildlife photographers.
Naturalists can not only visit herbal gardens but also take herbs back home as souvenirs. The jungle safaris, tiger spotting and fishing lake are perfect indulgences in the lap of nature.
The property - Where Luxury Meets Diversity
The Syna Tiger Resort is a luxury jungle resort sprawling across the Bandhavgarh National Park. The 20 tranquil cottages embrace the forest theme adorned by wicker furniture, beamed ceilings and tribal prints. The interiors are a clear reflection of Indian culture and soothe the city dwellers with its healing touch.
Those feeling adventurous enough to drive through the wilderness can enjoy free parking at the resort. The property is an excellent choice for corporate events and stays as it is well equipped with meeting rooms and conference facilities. A workout at the fitness centre in the morning and outdoor barbeque at night will be perfect to begin and end the day right. Go fishing during the day and enjoy a game of pool in the evening, this place has something for everyone. The number of outdoor activities is endless, and the 85-acre property has a lot to do indoors on a rainy day as well. You can choose to visit a village or be mesmerised at the sight of a tribal dance if a cultural experience is your calling.
Your Cottage - 20 Exclusive Cottages with Modern Amenities and a Rustic Theme
Tribal Cottage - 45 sq. m: The rustic yet traditional cottages at Syna Tiger Resort offer a personal gateway to paradise. Equipped with all modern amenities, these cottages let you bask in the sun in your private terrace where you can get lost in the majestic views around the property.
Luxury Cottage- 55 sq. m.: Spacious and exquisite, these luxury cottages come equipped with all the modern amenities and are well-furnished and well maintained to offer you a comfortable stay. It features glass top bathrooms and an individual machan from where you can enjoy the views of the green forest.
Theme-based Cottage- 55 sq. m: The theme-based cottages are 8 unique cottages whose architecture is based on 8 different Indian states, namely Chhattisgarh, Odisha, Gujarat, Rajasthan, Assam, Tripura, Karnataka & Kerala. Each cottage has been designed by expert designers of each state, giving not only the state's authentic look but feel as well to the space. These rooms are spacious, furnished beautifully, comes with modern amenities and facilities and features a private verandah with forest views.
Suite - 87 sq.m:
SAFE GETAWAYS
Your safety is of utmost priority to us. Which is why we are bringing you certified getaways to make sure your stay is safe and worry-free. Properties that tick all the boxes of our 12-point safety checklist get the Safe Getaway stamp while the rest are self-certified and follow their own set of protective measures.
Physical distancing of at least 6 feet to be followed as far as feasible.
All guests and employees are required to wear face shields/masks.
Every staff member and guest is required to follow proper hand hygiene such as frequent washing of hands and use of alcohol-based sanitizers. Both measures are facilitated by the hotel.
There is sufficient provision of hand sanitizers in guest rooms and public areas.
Guests are required to provide their travel history and medical records at the time of check-in and the same has to be looked into and maintained. ID and self-declaration form is provided by each guest at the reception.
Luggage is disinfected before being sent to the room.
Room service or takeaway is facilitated and encouraged.
Regular and effective sanitation within the premises is maintained with particular focus on lavatories, drinking and handwashing stations/areas.
Frequently touched surfaces such as doorknobs, elevator buttons, handrails, benches, washroom fixtures, etc. are cleaned and disinfected on a regular basis.
Deep cleaning of all washrooms is ensured at regular intervals.
Thermal screening of all guests and employees before they enter the property is compulsory.
Regular staff training is initiated for maintaining social distancing norms, hand hygiene and respiratory etiquette.
Valid for travel from 19/01/2021 to 30/06/2021
Surcharge: No high-season surcharges apply for this deal, so that you can enjoy the insider prices across the travel period!
Blackout Dates: There will be dates on which this deal will be unavailable. Dates for these have been marked on the booking calendar under blackout dates.
Availability: To confirm your dates of stay at purchase, click on 'Book Now' and select your preferred package. Use the calendar to browse and select available dates. Dates with a surcharge and blackout dates are identified.
Change of Date: 1 change in dates is permissible at no additional charges, provided that the change is made at least 30 days before the original arrival date and provided that the hotel has availability on the newly requested dates. The final decision regarding date changes is at the sole discretion of the Hotel and the Hotel reserves the right to decline a change in dates, should availability not exist on newly requested dates.
Partial pre-payment options are available for certain deals. For further information, please do not hesitate to contact our Travel Concierge team, by Email (travelconcierge@fabgetaways.com) or by phone (+919099061000).
Hotel Cancellation Policy: Any cancellation will incur a full payment. A no-show on the day of arrival will also incur charges equivalent to a full stay.
Each package is valid for two adults
Maximum Guest Capacity: The maximum room capacity is two adults and two children or three adults. See the 'Extra Guest Policy' and 'Child Policy' for more details
Extra Guest Policy: Where applicable, an extra adult can stay at a surcharge of INR 4600 with an extra bed and the inclusions available in the package, payable directly at the resort.
Child Policy: Where applicable, a child aged between 0 - 5 years may stay free of charge, a child aged between 6- 12 years may stay at a surcharge of INR 2875, these charges include an extra bed the inclusions available in the package, payable directly to the resort.
The package cannot be split.
Offer only available for consecutive nightly stays.
Dining inclusions do not include beverages (unless otherwise stated).
Menus are subject to change without notice.
Please note that full terms and conditions apply - refer to FABgetaways.com/terms&conditions
Services
Tiger Spotting: Increase your chances of seeing a tiger by going tiger spotting, guided by the resort's General Manager, who is also a naturalist.
In-house botanist: The in-house Botanist can take you for a personalised tour of the herbal garden
Facilities
Multicuisine Restaurant: The Executive Chef at Syna, works his magic in the kitchen and on your table. Prepare to have your expectations exceeded and your senses tantalized with a variety of mouth-watering food at the resort's restaurant.
Barrel Bar: Its cask-like interiors carry an old world charm while you get high on your favourite spirit. The unique cocktails will set the mood right for your outdoor barbeque to follow. It's an ambient spot for people to exchange some laughs over drinks and finger-licking starters.
Wildwood Spa: Run by a team of therapy professionals, Syna Tiger Resort's spa epitomises relaxation within nature. Apart from holistic indigenous treatments, the spa is the perfect place to let your mind and body relax in tune with the serene surrounding.
Reviews
By Air
You can take a direct flight from major Indian cities like Ahmedabad, Delhi, Mumbai, Hyderabad and Kolkata to get to Jabalpur airport. It is the nearest airport and is a 3.5-hour drive away from Syna Tiger Resort.
By Road
Syna Tiger Resort enjoys excellent road connectivity from all major cities across India. You can also get to the resort via a 4-hour drive (166 km) from Jabalpur or an 8.5-hour(404 km) drive from Raipur.
By Rail
The nearest railway station is Umaria. There are daily trains from Delhi to Umaria. Syna is about one-hour away from the railway station.
×
Select Trip dates
Selected dates
Surcharge dates
Available dates
Please select dates to view number of packages available
Prices for two adults with taxes