An Art-Rich Retreat in a 19th-century Shekhawati Haveli at Vivaana Culture Hotel
Vivaana Culture Hotel -

Mandawa, Rajasthan, India
2 Nights
Travel by 30th September, 2021
per room starting@
₹ 9,699
Prices for Two Adults with Taxes
Travel back in time to explore the art-rich culture, Havelis, fortresses, and palaces of the bygone era in the Open Art Gallery of the Shekhawati region with a heritage retreat in a 19th-century restored haveli at Vivaana Culture Hotel, Mandawa.
package options
2 Nights
Deluxe Room - 37 sq.m
Details
Daily breakfast
Guaranteed room upgrade to the next room category
A 3-course dinner for two, once per stay
Complimentary scheduled activities
20% discount of F&B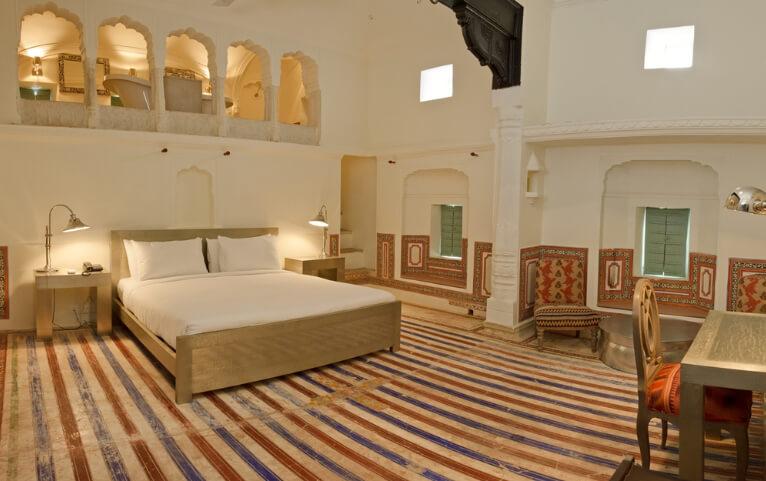 2 Nights
Luxury Room - 46 sq.m
Details
Daily breakfast
Room upgrade upon availability
A 3-course dinner for two, once per stay
Complimentary scheduled activities
20% discount of F&B
Appreciate the brilliant traditional Rajasthani artefacts and frescos in the Open Art Gallery with a heritage haveli stay at Vivaana Culture Hotel, pampering you with sumptuous rooms, charming gastronomy, sophisticated amenities, and fascinating experiences.
Your Inclusions:
Bask in the art-rich Rajasthani mornings in Mandawa with daily breakfast
Enliven your Shekhawati heritage vacay with a guaranteed room upgrade to the next room category
Savour the oozing taste of authentic Rajasthani flavours with a 03-course dinner for two, once per stay
Indulge in unrivalled recreation in Mandawa with complimentary scheduled activities at the hotel (Heritage walk, bicycle tour, Rajasthani folk music & puppet show)
Revel in a mouth-watering Rajasthani culinary frenzy with a 20% discount of F&B
The Location – The Awe-Striking Open Art Gallery
Situated in the Jhunjhunu district of Rajasthan, close to Jaipur and Delhi, Mandawa is a picturesque historical town set in the heart of Shekhawati region, dotted with a plethora of awe-inspiring Havelis, palaces, fortresses, and paved archways. Famously known as the Open Art Gallery, the quaint town is embellished with brilliant traditional artwork on the facades and interiors of the various ancient mansions. Amidst its culturally magnificent ambience, Mandawa houses an endless list of primordial attractions, such as Mandawa Fort, Goenka Double Haveli, Binsidhar Newatia Haveli, Murmuria Haveli, and more.
The Property – An Art-rich Shekhawati Heritage Haven
Nestled amidst the artistic ambience of Mandawa, Vivaana Culture Hotel is a majestic Shekhawati twin haveli, dating back to the 19th century, restored with the utmost care and attention to detail into a heritage hotel. The magnificent haveli is adorned with brilliant artwork and frescos, both on the inside and outside, representing the fascinating artistic culture of the Open Art Gallery. Amidst its charming historical aura, Vivaana Culture Hotel features well-appointed rooms, delightful dining, top-notch facilities, lush lawns, spacious courtyards, and high terraces. The hosts at the magnificent heritage haven also delight you with endearing Rajasthani hospitality and a wide array of offsite activities, such as camel cart rides, heritage walks, cycling tours, bush dinners, and more.
Your Room – An Eclectic Blend of Art, Luxe & Heritage
Deluxe Room - 37 sq.m : Furnished with traditional Rajasthani interiors featuring calming colours and tones, the Deluxe Room indulges you in a relaxing retreat in the picturesque artistic heritage and culture of Mandawa. While you relish the splendid views of the lush gardens of the haveli, the lavish room delights you by featuring a cosy king bed, a gleaming bathroom, and a wide range of amenities.
Luxury Room - 46 sq.m : Embellished with a palette of vivid hues and awe-inspiring traditional artwork, the Luxury Room enlivens your stay in the Open Art Gallery by offering a more spacious ambience. As you savour the awe-striking vistas of the verdant gardens, the sumptuous room satiates you with a comfy king bed, an opulent bathroom, and all the amenities you need as a modern traveller.
SAFE GETAWAYS
Your safety is of utmost priority to us. Which is why we are bringing you certified getaways to make sure your stay is safe and worry-free. Properties that tick all the boxes of our 12-point safety checklist get the Safe Getaway stamp while the rest are self-certified and follow their own set of protective measures.
Physical distancing of at least 6 feet to be followed as far as feasible.
All guests and employees are required to wear face shields/masks.
Every staff member and guest is required to follow proper hand hygiene such as frequent washing of hands and use of alcohol-based sanitizers. Both measures are facilitated by the hotel.
There is sufficient provision of hand sanitizers in guest rooms and public areas.
Guests are required to provide their travel history and medical records at the time of check-in and the same has to be looked into and maintained. ID and self-declaration form is provided by each guest at the reception.
Luggage is disinfected before being sent to the room.
Room service or takeaway is facilitated and encouraged.
Regular and effective sanitation within the premises is maintained with particular focus on lavatories, drinking and handwashing stations/areas.
Frequently touched surfaces such as doorknobs, elevator buttons, handrails, benches, washroom fixtures, etc. are cleaned and disinfected on a regular basis.
Deep cleaning of all washrooms is ensured at regular intervals.
Thermal screening of all guests and employees before they enter the property is compulsory.
Regular staff training is initiated for maintaining social distancing norms, hand hygiene and respiratory etiquette.
Valid for travel from 04/01/2021 to 30/09/2021

Surcharge: No high-season surcharges apply for this deal so that you can enjoy the insider prices across the travel period!
Blackout Dates: There will be dates on which this deal will be unavailable. Dates for these have been marked on the booking calendar under blackout dates.
FABcredits: FABcredits cannot be redeemed on this deal, as the prices already have the best discounts we could offer.
Availability: Bookings are subject to availability. To confirm your dates of stay at purchase, click on 'Book Now' and select your preferred package. Use the calendar to browse and select the available dates. Dates with a surcharge and blackout dates are identified.
Change of Date: 1 change in dates is permissible at no additional charge, provided that the change is made at least 30 days before the original arrival date and provided that the hotel has availability on the newly requested dates. The final decision regarding date changes is at the sole discretion of the Hotel and the Hotel reserves the right to decline a change in dates, should availability not exist on newly requested dates.
Partial Prepayment: Partial prepayment options are available for certain deals. For further information, please do not hesitate to contact our Travel Concierge team, by Email (travelconcierge@fabgetaways.com) or by phone (+919099061000).
Hotel Cancellation Policy: All cancellations will be completely free and qualify for a 100% refund, provided it is done at least 7 days prior to the check-in date. Past that, any cancellation, including a no-show on the day of arrival, will incur a full payment.
Validity: Each package is valid for two adults.
Maximum Guest Capacity: The maximum room capacity is two adults and one child (aged below 12 years) or 3 adults. See the 'Extra Guest Policy' and 'Child Policy' for more details.
Extra Guest Policy: Where applicable, an extra adult can stay at a surcharge of INR 1680 per night, with an extra bed and breakfast, payable directly at the resort.
Child Policy: Where applicable, a child aged between 0 - 8 years may stay free of charge, a child aged between 9 - 12 years may stay at a surcharge of INR 1456 per night, these charges include an extra bed and breakfast, payable directly to the resort.
Check-in: 2:00 PM
Checkout: 12:00 PM
The package cannot be split.
No connecting rooms available.
Offer only available for consecutive nightly stays.
Dining inclusions do not include beverages (unless otherwise stated).
Menus are subject to change without notice.
Please note that full terms and conditions apply - refer to https://www.fabgetaways.com/terms-and-conditions
Services
Guided Haveli Tour: Explore the charming Shekhawati heritage and culture by taking a guided tour of the 150-year-old haveli, offered by the hosts at the hotel, while wearing the traditional Rajasthani attire.
Village Walk: Discover the rustic lifestyle and culture of the local inhabitants during your stay in Mandawa by taking an exciting walk through a nearby village arranged by the hotel.
Temple Trail: Explore the magnificent ancient temples of Mandawa, including the Shiv Narayan temple and the Shani temple, by setting out on an enthralling temple trail offered by the hotel.
Farm Visit: Revel in a hands-on farming experience during your heritage getaway in Mandawa by riding a tractor, tilling fields or harvesting crops with an exciting visit arranged by the hotel to a local farm.
Pottery: Try your hand at the traditional art of pottery to create some beautiful souvenirs under the guidance of an experienced local potter with the pottery workshops arranged by the hotel.
Bangle Making: Learn the age-old art of making traditional Churisor bangles with an interactive bangle-making demonstration arranged by the hotel with a local craftsperson.
Camel Cart Ride: Explore the rural charm of the Shekhawati region by travelling through a local village in traditional Rajasthani style with a captivating camel ride offered by the hotel.
Cycling: Pedal through the rural environs and hilly terrains around Mandawa to explore the hidden charms of the town at your pace by taking a leisurely tour on a comfy bicycle offered by the hotel.
Cooking Demonstration: Learn to cook a myriad of unique recipes for lip-smacking delicacies with an interactive live cooking demonstration offered by experienced chefs at the hotel.
Cultural Evening: Indulge in traditional Rajasthani cultural entertainment by relishing a fascinating folk music performance and an intriguing puppet show during the cultural evening arranged by the hotel.
Facilities
Spa: With a Jacuzzi, steam facility, and tranquil massage rooms, the serene Elephant House Spa at the hotel satiates your body and mind by offering a wide range of reinvigorating Ayurvedic treatments.
Swimming Pool: Dive into the blissful oblivion amid the artistic heritage and serenity of the haveli by taking a rejuvenating dip in the cerulean waters of the outdoor pool at the hotel.
Library: Indulge in some relaxing indoor recreation by picking up your favourite book to read or play an exciting game from a wide collection available at the hotel's tranquil library in the verandah.
Dining: The hotel takes you on an enchanting culinary journey during your stay in Mandawa by serving an extensive repertoire of cuisines and beverages amid spectacular settings of its culinary venues.
MaalKhana:

Tickle your taste buds with the authentic flavours of the Rajasthani Thali as well as a wide range of Indian delights with a global twist served amidst the elegant ambience of the hotel's multi-cuisine dining venue, MaalKhana.

Vivatini:

Sample your favourites from a wide selection of crisp libations amidst a sophisticated aura to unwind after a long day of excursions at the hotel's exquisite bar, Vivatini.
Reviews
By Air
The nearest airport to the hotel is Jaipur International Airport, located at a distance of 174 km (approx. 3 hours). The airport has excellent flight connectivity with direct flights available for Jaipur from major cities, such as Mumbai, Delhi, Bangalore, Kolkata, and Chennai.
By Rail
Sikar Railway Junction, located 50 km away (approx. 1 hour) away, is the nearest railhead to the hotel. The junction has excellent rail connectivity with a regular influx of trains from major cities like Mumbai, Delhi, Ahmedabad, Hisar, Jaipur, and Kota.
By Road
You can also drive to the resort via a 5.5-hour (261 km) route from Delhi, a 6-hour (337 km) route from Jodhpur, an 8.5-hour (490 km) route from Udaipur, an 8.5-hour (512 km) route from Jaisalmer or a 13-hour (780 km) route from Ahmedabad.
×
Select Trip dates
Selected dates
Surcharge dates
Available dates
Please select dates to view number of packages available
Prices for Two Adults with Taxes