Adaaran Select Hudhuran Fushi, Maldives
Delve into Adaraan Select Hudhuran Fushi: a lavish, all-inclusive haven for unforgettable tropical adventures in Maldives
Adaaran Select Hudhuran Fushi, Maldives -

Republic of Maldives, North Male Atoll, Maldives
3 Nights / 4 Nights
Travel by 31st March, 2024
per room starting@
₹ 146,499
Prices For Two Adults With Taxes
Adaaran Select Huduran Fushi - Premium All-Inclusive beckons with sun-soaked bliss on Lhohifushi Island, Maldives. Dive into luxury with a pool, tennis court, and Chavana Spa's rejuvenating treatments. Indulge in international buffets at Banyan Restaurant, seafood delights at Sunset Restaurant, and unwind with cocktails at Lohis and Hiyala Bars. It's a holiday oasis with water sports, gym, and unforgettable experiences
package options
3 Nights
Deluxe beach villa: 59 sq. m
Details
Enjoy daily Breakfast during your stay

Enjoy daily Lunch and Dinner

Round-trip speedboat transfers

10% discount on the excursion bill

One sunset cruise experience
Complimentary snorkelling excursions and equipment
Weekly cookery and cocktail demonstration

Pamper yourselves with a 30-minute spa session during your stay

Non-motorized water sports & more
Sports and recreational activities
4 Nights
Deluxe beach villa: 59 sq. m
Details
Enjoy daily Breakfast during your stay

Enjoy daily Lunch and Dinner

Round-trip speedboat transfers

10% discount on the excursion bill

One sunset cruise experience
Complimentary snorkelling excursions and equipment
Weekly cookery and cocktail demonstration

Pamper yourselves with a 30-minute spa session during your stay

Non-motorized water sports & more
Sports and recreational activities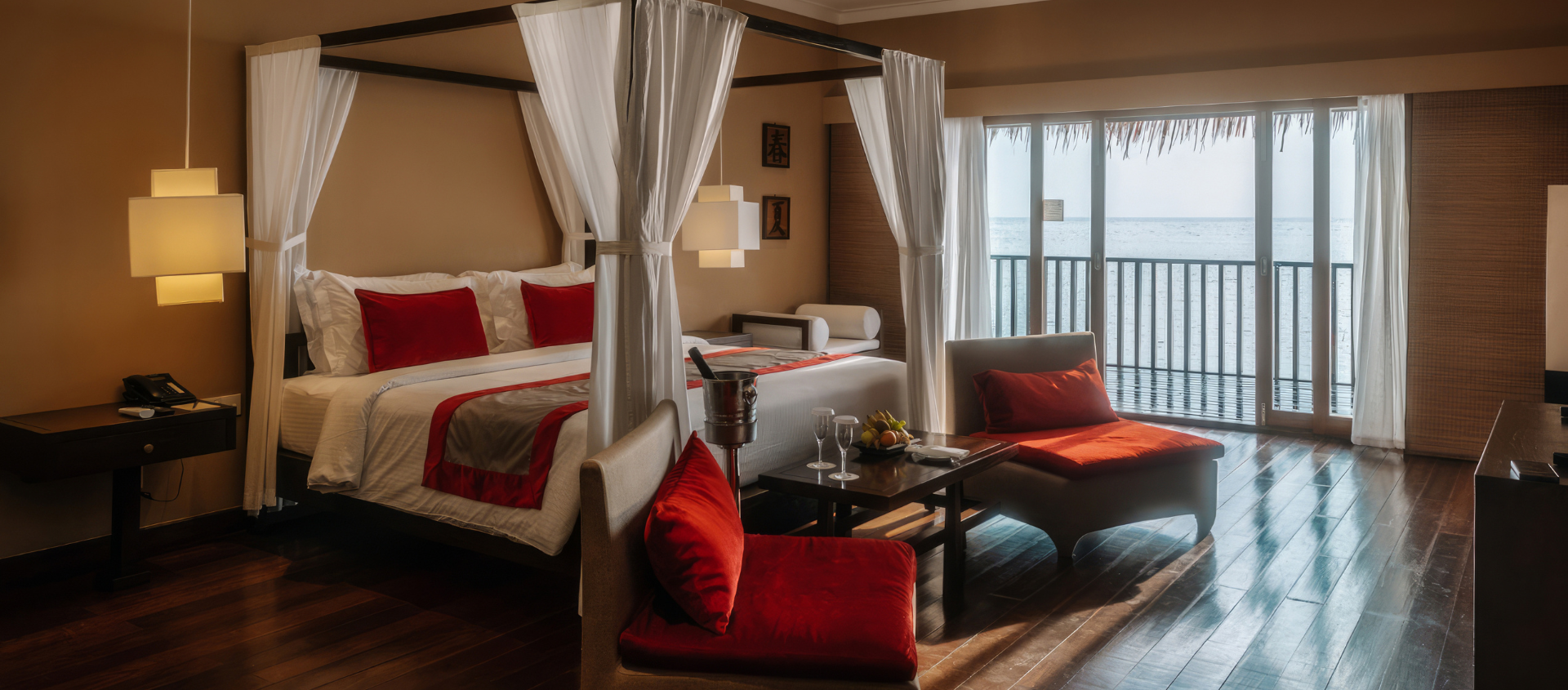 3 Nights
Sunrise ocean villa: 64 sq. m
Details
Enjoy daily Breakfast during your stay

Enjoy daily Lunch and Dinner

Round-trip speedboat transfers

10% discount on the excursion bill

One sunset cruise experience
Complimentary snorkelling excursions and equipment
Weekly cookery and cocktail demonstration

Pamper yourselves with a 30-minute spa session during your stay

Non-motorized water sports & more
Sports and recreational activities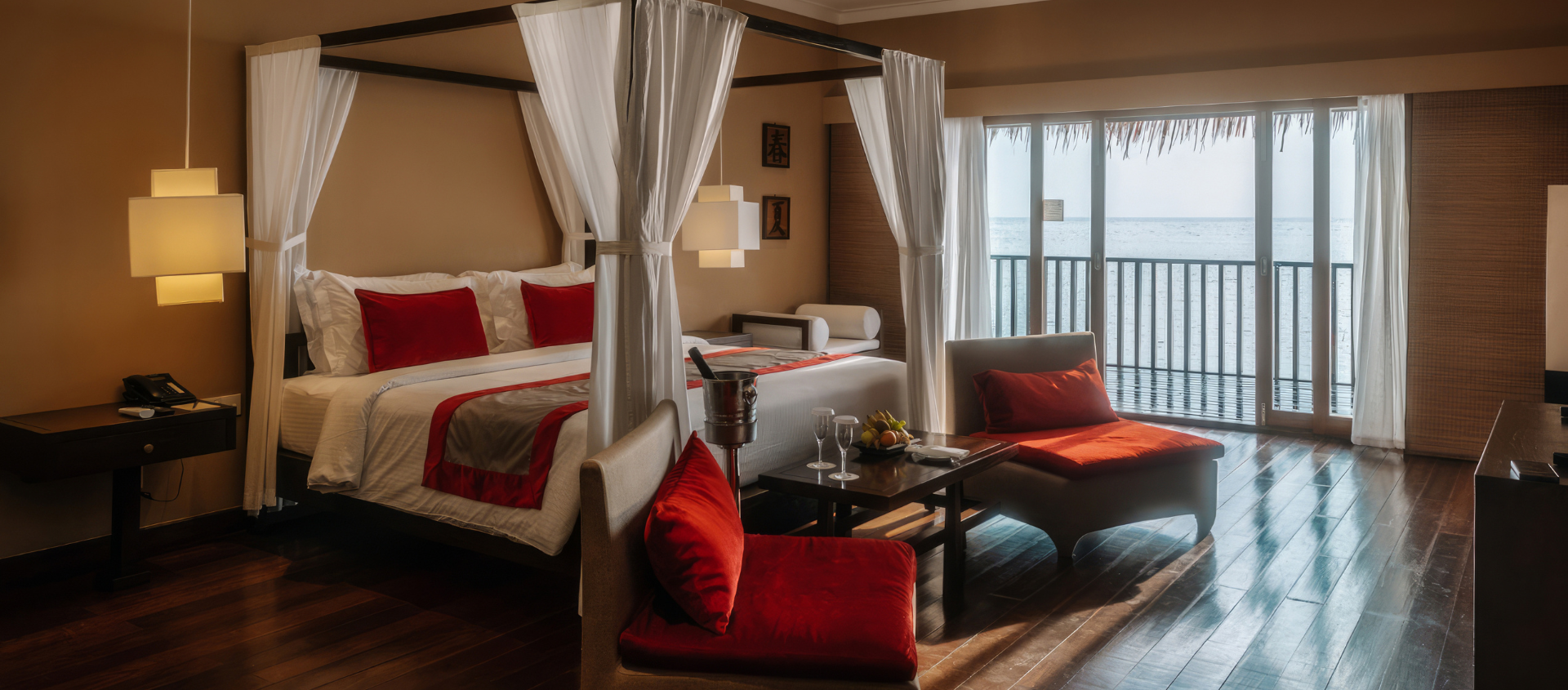 4 Nights
Sunrise ocean villa: 64 sq. m
Details
Enjoy daily Breakfast during your stay

Enjoy daily Lunch and Dinner

Round-trip speedboat transfers

10% discount on the excursion bill

One sunset cruise experience
Complimentary snorkelling excursions and equipment
Weekly cookery and cocktail demonstration

Pamper yourselves with a 30-minute spa session during your stay

Non-motorized water sports & more
Sports and recreational activities
Adaaran Select Huduran Fushi invites you to bask in sun-soaked luxury on Maldives' Lhohifushi Island. Dive into a haven of all-inclusive indulgence with a pool, tennis court, and Chavana Spa. Savor global flavors at Banyan Restaurant, relish seafood under the stars at Sunset Restaurant, and unwind with cocktails at Lohis and Hiyala Bars. It's an oasis of holiday perfection, offering water sports, a gym, and unforgettable moments.
Your inclusions:
Enjoy daily Breakfast during your stay

Enjoy daily Lunch and Dinner

Round-trip speedboat transfers

10% discount on the excursion bill

One sunset cruise experience
Complimentary snorkelling excursions and equipment
Weekly cookery and cocktail demonstration

Pamper yourselves with a 30-minute spa session during your stay

Non-motorized water sports & more
Sports and recreational activities
The location: An ethereal paradise :
A heaven of turquoise hues, where palm-fringed atolls cradle pristine beaches kissed by the warm Indian Ocean breeze. Each coral island is a canvas of luxury over crystal-clear waters, offering unrivaled serenity and vibrant marine life It's a destination where time stands still, and every moment is etched in the memory as a masterpiece of tropical perfection.
The property: A sun drenched haven :
Immerse yourself in the allure of an all-inclusive retreat adorned with a pool, tennis court, and the rejuvenating Chavana Spa. Relish global culinary delights at Banyan Restaurant, savor seafood under the starlit sky at Sunset Restaurant, and let the day unwind with cocktails at Lohis and Hiyala Bars. This oasis of holiday perfection is a symphony of water sports, a fitness haven, and a canvas for crafting unforgettable moments in the heart of paradise.
Your room: An indulgent paradise :
Sunrise ocean villa: 64 sq. m :
Elevate your stay with our Premium All-Inclusive plan! Enjoy inclusive beverages, minibar treats, fresh fruit on arrival, in-room tea and coffee, and kids club fun. Dive into weekly activities and value-added perks like a Sunset Cruise and Dolphin Watching. Unwind in luxury, your adventure awaits!
Deluxe beach villa: 59 sq. m :
Indulge in luxury at Deluxe Beach Villa with Premium All Inclusive. Enjoy complimentary sunset cruises, a stocked minibar, and non-motorized water sports. Dive into weekly activities and kids' programs, with bonus perks like sunset cruises and dolphin watching. Your escape to paradise awaits!
Your safety is of utmost priority to us. Which is why we are bringing you certified getaways to make sure your stay is safe and worry-free. Properties that tick all the boxes of our 12-point safety checklist get the Safe Getaway stamp while the rest are self-certified and follow their own set of protective measures:
Physical distancing of at least 6 feet to be followed as far as feasible.
All guests and employees are required to wear face shields/masks
Every staff member and guest is required to follow proper hand hygiene such as frequent washing of hands and use of alcohol-based sanitizers. Both measures are facilitated by the hotel.
There is sufficient provision of hand sanitizers in guest rooms and public areas.
Guests are required to provide their travel history and medical records at the time of check-in and the same has to be looked into and maintained. ID and self-declaration form is provided by each guest at the reception.
Luggage is disinfected before being sent to the room.
Room service or takeaway is facilitated and encouraged.
Regular and effective sanitation within the premises is maintained with particular focus on lavatories, drinking and handwashing stations/areas.
Frequently touched surfaces such as doorknobs, elevator buttons, handrails, benches, washroom fixtures, etc. are cleaned and disinfected on a regular basis.
Deep cleaning of all washrooms is ensured at regular intervals.
Thermal screening of all guests and employees before they enter the property is compulsory.
Regular staff training is initiated for maintaining social distancing norms, hand hygiene and respiratory etiquette.
Valid for travel from 16/11/2023 to 31/03/2024
Surcharge: High-Season surcharges apply for this deal. Please check the calendar for the price for your dates
Blackout Dates: There will be dates on which this deal will be unavailable. Dates for these have been marked on the booking calendar under blackout dates.
FABcredits: FABcredits cannot be redeemed on this deal, as the prices already have the best discounts we could offer.
Availability: Bookings are subject to availability. To confirm your dates of stay at purchase, click on 'Book Now' and select your preferred package. Use the calendar to browse and select the available dates. Dates with a surcharge and blackout dates are identified.
Change of Date: 1 change in dates is permissible at no additional charge, provided that the change is made at least 5 days before the original arrival date and provided that the hotel has availability on the newly requested dates. The final decision regarding date changes is at the sole discretion of the Hotel and the Hotel reserves the right to decline a change in dates, should availability not exist on newly requested dates.
Partial Prepayment: Partial prepayment options are available for certain deals. For further information, please do not hesitate to contact our Travel Concierge team, by Email (travelconcierge@fabgetaways.com) or by phone (+919099061000).
Hotel Cancellation Policy: All cancellations will be completely free and qualify for a 100% refund, provided it is done at least 5 days prior to the check-in date. Past that, any cancellation, including a no-show on the day of arrival, will incur a full payment.
Validity: Each package is valid for two adults.
Maximum Guest Capacity: The maximum room capacity is two adults and two child (aged below 8 years) or 3 adults. See the 'Extra Guest Policy' and 'Child Policy' for more details.
Extra Guest Policy: Where applicable, an extra adult can stay at a surcharge with an extra bed,payable to FABgetaways.
For 3Nights:
INR 53819
For 4Nights:
INR 71179
Child Policy: Where applicable, a child aged between 0-1.99 years may stay at a surcharge of INR 1503 for 3 Nights and INR 2004 for 4 Nights payable directly at resort. Where applicable a child aged between 2-11.99 years may stay at a surcharge INR with an extra bed, payable to FABgetaways.
For 3Nights:
INR 27779
For 4Nights:
INR 36459
Compulsory Festive Supplements :
Christmas Eve (24th Dec) :-
Per Adult - INR 19289
Per Child - INR 9649
New Year Eve (31st Dec) :-
Per Adult - INR 31349
Per Child - INR 15679
Special Inclusions:
Honeymoon Special -
Romantic Bed decoration

-

once per stay

One

Honeymoon cake

Romantic Turn

-

down service

-

once per stay (on request)

Honeymooners

-

Dinner

-

once per stay (for

the

stay of 04 nights

minimum)
Wedding Anniversaries -
Anniversary Cake – once during stay

Anniversary Bed Decoration – once during stay


Bottle of wine on arrival
Silver & Gold Anniversaries -
Anniversary Cake – once during stay

Anniversary Bed Decoration – once during stay

US $ 30 F&B credit – per couple, per stay.


Bottle of wine on arrival
Birthday -
Birthday Cake – once during stay

Bottle of wine on arrival

Fruit Basket on arrival


Birthday Bed Decoration – once during the stay
Check-in: 2:00 PM
Checkout: 12:00 PM
The package cannot be split.
No connecting rooms are available.
Offer only available for consecutive nightly stays.
Dining inclusions do not include beverages (unless otherwise stated).
Menus are subject to change without notice.
Please note that full terms and conditions apply - refer to https://www.fabgetaways.com/terms-and-conditions
Services:
Daily Breakfast
Daily lunch and dinner
Round-trip speedboat transfer

10% discount on the excursion bill

Free snorkelling excursions and equipment
Weekly cookery and cocktail demonstration
30-minute complimentary spa session once during the stay
Non-motorized water sports included
Sports and recreational activities
Facilities:
Live music/performance

Badminton and tennis equipment

Snorkelling

Canoeing
Reviews
By Air :
Adaaran Select Huduran Fushi, Maldives is about 19 km from Male International Airport. From there, it is 30 minutes by speedboat to the island
×
Select Trip dates
Selected dates
Surcharge dates
Available dates
Please select dates to view number of packages available
Prices For Two Adults With Taxes