Ayada is a private island resort set in the unexplored Gaafu Dhaalu Atoll, which is just a few kilometres above the equator. Surrounded by tropical greenery and the undisturbed pristine coral reefs, Ayada is one of the finest resorts in Maldives. And rightly so! With multiple awards that they've won over the years like the "Signum Virtutis", Seal of Excellence, from the 2017 Seven Stars Luxury Hospitality and Lifestyle Awards and World Luxury Restaurants Awards winner 2017 for serving speciality cuisine at eight restaurants and offering impeccable in villa dining experiences.
Maldives as a destination is widely known as a honeymooner's paradise. Its clear blue ocean and the white sand beaches are undeniably the most romantic backdrop for anyone's love to blossom. But that's not all that Maldives is ideal for. It has so much more to offer - from snorkeling, and diving, to equator crossing and exploring a shipwreck nearby, you can experience it all with your family.
Ayada has it all under one roof - from snorkeling and kayaking to scuba diving, a tour of the turquoise waters in a glass-bottomed boat, crossing the equator by sea, or a picnic on a deserted island just like Robinson Crusoe but with better food. There's also The Ayada Carnival, which is free to join for all guests, and takes place twice a week. The Carnival consists of games for adults and children alike, and makes for a great place for families to have fun and mingle with other families.
Your kids can also spend their time at the Zuzuu Kids' Club while you indulge in a Turkish Hammam or a spa treatment at AySpa. All the activities at the Kids' Club are complimentary and your child will be thrilled to receive a Zuzuu bag on arrival with a toy, cap, t-shirt and a booklet. And it gets better - for kids aged 5 years and below all the watersports are free of charge. And for kids aged between 6 to 12 years, there's a 50% discount on all watersports. What more would you want?
This and much more awaits you at Ayada. So here's a list of activities and adventures you can set out on with your family:
1. Snorkeling
Ayada Maldives has amazing coral reefs in its area which are well worth exploring, and what better way to do that than snorkel? It is the best way to discover the reef and its abundant marine life. The staff at Ayada will be happy to help you to decide on the best time and the best spots to snorkel. They advise you to begin snorkeling against the current as when you get tired, it is easier to come back with the current. Fins, mask and snorkel are provided by them. For the less confident swimmers they also provide life-jackets to wear in the water free of charge.
2. Fun Tube
Bounce across the waves in a tube connected by a rope to a speedboat. Just give it a try and you will understand why it's called a FUN tube. With you sitting inside that tube, the boat slowly starts accelerating and you move just above the water at great speed. It will make for an unforgettable memory and a thrilling experience!
3. Jet Ski
This is one of the most popular water activities. Experience the thrill of speed on water with one of their guides by your side.
4. Diving
Set out on a dive with your family and discover coral reefs and marine life while enjoying each other's company. With year round high visibility, favorable weather conditions, stunning coral reefs and free flowing tides of the seasonal monsoons, Maldives is a haven for divers and ocean lovers.
Over 1,000 species of fish, coral and other marine life inhabit the waters throughout the Maldives. Given the isolation of the Gaafu Dhaalu atoll, the underwater seascape found around Ayada Maldives is still undisturbed and awaiting discovery by enthusiasts. Gaafu Dhaalu atoll is fast gaining an international reputation as being one of the most incredible places to dive and snorkel due to the excellence of its coral reefs and untouched marine life. Thanks to the relatively small number of divers, it's still possible to discover a reef where the fish have never seen a human being before.
The courses on offer at Ayada are all developed by the Professional Association of Diving Instructors (PADI) the world's most premier diving education organisation. All their courses guarantee quality and your certification will be globally acknowledged. All courses are modular allowing for you to begin with an introductory course and progress to a certification course.
5. Dolphin Spotting
Grab your snorkel and jump on board for this trip to visit the lovable spinner dolphins followed by snorkeling on a beautiful coral reef.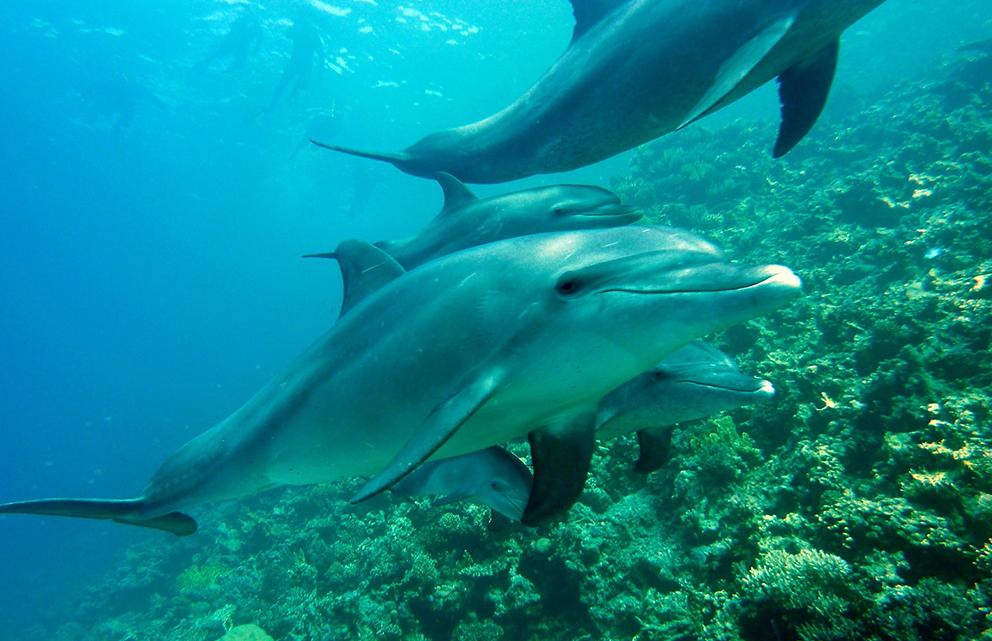 6. Equator Crossing
Join the band of the select few who've crossed the Equator by sea and have a signed certificate as a souvenir. Please note: this excursion is dependent on the weather and the waves can be a little rough on this trip.
7. Deserted Island Picnic
The Ayada guide will take you to a nearby deserted island for a complete Robinson Crusoe experience you'll treasure forever.
There's too many activities at Ayada, and very little space to talk about all of them. But rest assured, this and much more awaits you only at Ayada. The property makes for a peaceful getaway due to its undisturbed environ, and you won't even need to venture out of its vast grounds to get away from people. Book your next family holiday at Ayada, Maldives - it has something for everyone - from kids to adults to those seeking adventure!