Jaipur, Rajasthan's capital city is an emotion in itself and it is on every traveller's must-visit list. And why not? Known for its colourful culture, historical landmarks, pink-hued buildings and bustling markets, it is less of a place and more of an experience. Luckily for the Pink City's visitors, Jaipur houses some of the best heritage hotels in India.
Just 30 minutes away from the Jaipur International Airport is the Royal Heritage Haveli, one of the best heritage hotels in the city. Amidst Jaipur's busy vibe, the retreat, which is spread over 5-acres, provides some respite to its guests in its serene courtyards and lush surroundings.
A rich past
Originally built in the 18th century as a hunting lodge for the royals of Jaipur, it has now been restored into a beautiful boutique property. Built by Madho Singh Ji of Jaipur about 300 years ago, generations of the royal family have hosted many-a-guest in the lodge-turned-hotel over the years.
A family run heritage property, this Haveli becomes a home away from home as the hosts pamper you with authentic Rajputana traditions and culture bringing back the royal charm of the bygone eras of the Raj.
The Plush Outdoors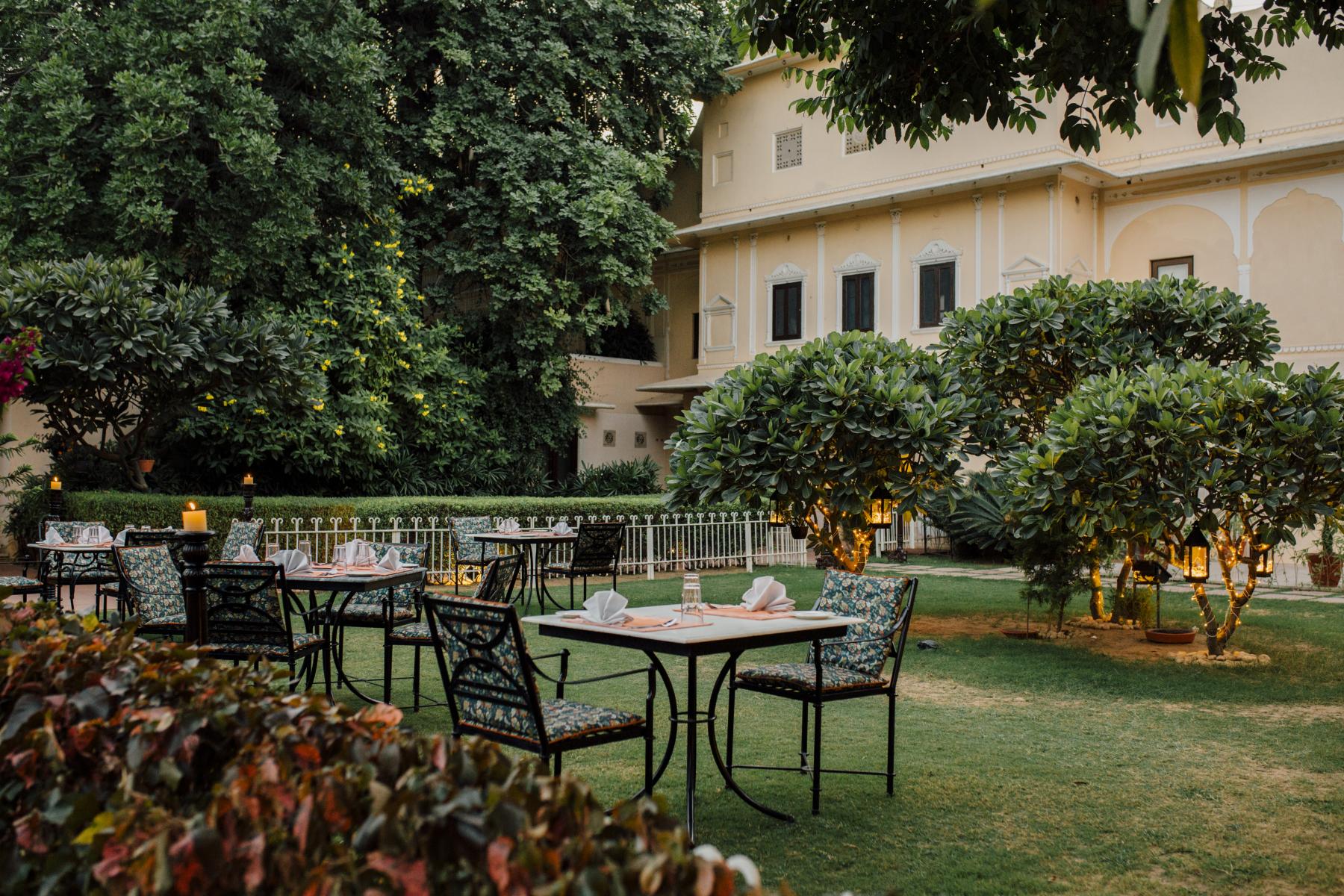 With arms wide open, the property engulfs you into its grand charm at this ethereal destination. The Haveli's five-acres are adorned with rambling lawns and serene courtyards that are a sight for sore eyes. Evenings are made magical with beautifully studded lighting and arches that gleam in the evening moon.
Rejuvenate by taking a cool dip in the sandstone pool surrounded by the sweet scent of Frangipani trees or calm your senses with a relaxing massage at the hands of trained professionals at the Haveli's spa.
Tasteful Indoors
The Royal Heritage Haveli sets itself apart from the overwhelming number of heritage hotels that dot the city of Jaipur. The usual kitsch Rajasthani colours are one thing you won't find at this retreat that exudes elegance from all its spaces and corners. Instead, toned-down pastel shades adorn its interiors, giving it a softer and more graceful look.
Awarded Asia's best Honeymoon Hideaway by The Boutique Hotel Awards, this retreat is a delight to stay at. Each of the 19 suites come with its own reading nook, plush amenities and a colour theme unique to each of them. Pick from classic, superior, premium and royal suites and be spoilt at the hands of warm Rajputana hospitality.
Heavenly Dining
Known for its lip-smacking culinary fair and regal styles of dining, Rajasthani cuisine is nothing short of a lavish feast. You will find yourself spoilt for choice at the gourmet dining venues the retreat offers.
For your mornings, begin your day with a fancy spread of food ranging from Indian to Continental at the inner courtyard. Heighten your dining experience with the soothing melodies of a santoor in the background. For all your other moods, an open-air alfresco dining venue - Kigelia court offers delectable lunch or dinner. The Mehrab is the perfect spot for an evening celebration to your vacay with drinks and hors d'ouvres while Cafe Samsara is a perfect spot to enjoy a little peace and quiet while sipping on freshly brewed coffee or tea.
For those of you who enjoy a little piece of heaven and intimacy, the Haveli curates a Chef's special candle-lit dinner for a memorable evening. And to bring it all together for the culinary enthusiast in you, enjoy a hands-on cooking class with the chefs of the Rajput kitchen which is sure to leave you wanting for more.
Truly a regal retreat with centuries-old royal heritage, this is as close as you can come to experiencing the gorgeous charms of Rajputana luxury, culture, customs and arts. Ready to be charmed? Book your stay with us now.